Cabinet Reshuffles Changing Of Pillows: No Cure For Political Headaches
Last week there were more stories making the rounds on contemplated decisions made outside the cabinet meeting than decisions made inside. Of course, the usual briefing on cabinet decisions were spelled out, Thursday afternoon. For a regime that still wants to boast it has popular support, comparing itself to an opposition fractured and quarrelling red and green, it is important it keeps a tidy face for the public.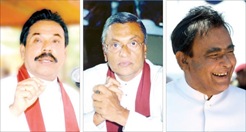 It is no easy route for the Rajapaksas. How shrewd the seasoned politician, Mahinda Rajapaksa can be, is what the coming week will put to the test, with more issues to confront a regime that is cash strapped, even though  the flamboyant Cabraal would want him to believe otherwise. The dollar and the rupee have their own tussle too, for Rajapaksa to decide on. At the end of the day, it is Rajapaksa and not Cabraal who will have to face the agitation on the streets.
S. M. Krishna arrives
President Rajapaksa has a heavy schedule too with the Indian Minister for External Affairs S. M. Krishna's visit to Sri Lanka. He is scheduled to meet the TNA parliamentarians who have not made any final stand on the LLRC Report. Krishna's visit was preceded by Canada saying it (the LLRC Report) is sufficient. The US and the EU too was saying almost the same. Will Krishna push a similar line, or will he want more on devolution? Rajapaksa has now backed down on both police and land powers, saying they could be discussed. The TNA has also agreed to sit with the government once again. Delhi certainly plays it soft and cool, with Tamil Nadu not heard of since of late.
Rajapaksa meanwhile was scouting for a campaigner on the LLRC Report. Someone who could reach out to the moderate Tamils and the Sinhalese. He does not seem happy with the Professor who cannot reach the people. The Rajapaksas no doubt feel they have not been served well by those around them. Not in a manner that would shield them from what is unravelling at present.. "How else could a government that won a two thirds majority 20 months ago, run into mass protests on Colombo streets?", asked one of his closest men in the Information Department.
Three Bills withdrawn
Within 7 months, the government was forced to roll back 3 important Bills and its vegetable and fruit transporting regulations. Their two thirds majority in parliament going impotent in the face of public protests. Farmers and middlemen made tough talking minister Fernando look a scarecrow in a fallow land with the President deciding his regime cannot afford a widespread crackdown on protesting farmers from Dambulla to vendors in the Manning market in Pettah. Trying to ram down these would have been political suicide and that is the only language the Rajapaksas will listen to.
Starting with the Employees' Pension Fund Bill that was brought to parliament in early April 2011, the government had to shelve 2 more at the Cabinet meeting last Wednesday, again due to mounting pressure from civil society, threatening to get on the streets.  Amendments to the EPF Act No. 15 of 1958 that sought first to provide powers to the Commissioner General of Labour (CGL) to establish both a Pension and an Insurance Fund with no mention of how monies would be provided for the Funds and the power to purchase land and build a secretariat for the established Funds, with no mention of spending limits, despite these monies being savings of employees, has now been marked for shelving. At the National Labour Advisory Committee (NLAC) Minister Lokuge had been told by trade union representatives that include government affiliated representatives as well, they would walk out immediately if powers given to the CGL are not removed. That too is another crisis brewing.
FUTA was gathering steam after being made to list its protest against the proposed Bill to set up a "Sri Lanka Quality Assurance and Accreditation Board and Non-State Higher Education Council" even over their pay hike issue. A group of university academics standing for "Democracy and Dialogue" had issued a long analysis on the Bill and claimed the proposed Bill was meant to smuggle in private universities with State universities allowed to gradually decay while private capital would be provided space to make profits by churning out robots for the labour market. This campaign against the Bill was thus getting more attention than the claims made by the Higher Education Minister on benefits of private education. With A/L exam results also muddled up beyond use, students taking to the streets and all universities agitating furiously – that Bill too was shelved. The house of cards is beginning to shake.
Further Headaches
Interestingly, all 4 failures this time were "naturalised SLFPers" and crossovers from the UNP, one time or another. Fernando, Lokuge and Dissanayake, with Bandula Gunawardne also following on their heels, with the A/L fiasco. This naturally created punchy stories with a pinch of vengeance amongst lead players in the SLFP, guessing who from the crossovers would give the next dead rope to the President. Many were predicting another cropper, the second from the Treasury Head, on a draft bill that is meant to regularise "contract labour" in the private sector. That the Head of the Central Bank and the Secretary to the Treasury are traversing two different roads is yet another story.
Veteran SLFP trade unionist Devendra had brought the issue up, while in discussion with the President, said insiders. Dr. Jayasundera seated next to Devendra had kept ignoring the complaints raised by Devendra. Rajapaksa had said it was necessary to promote foreign investment, an argument Devendra would not buy as he knew, it was local businessmen who opted for contract labour to avoid administrative commitments on permanent labour and union activities. Devendra, it is said, had been advised by the President to sort out the rough edges with Jayasundera, who sees nothing so rough in employing contract labour.
Curbing Protests
What is rough though with the government is its inability to curb vital protests. The effect it has within its own ranks in government is not to be ignored by the President. It is not just that President Rajapaksa is unable to ignore accusations brought against Mervyn Silva. It is that the protests against Silva, goes smack against his silent approval given to the man, all these years. It is in keeping him as a 'sidekick' minister despite his antics. There is no stopping the disciplinary inquiry against Mervyn Silva this time as was done when he was accused of forcing himself into the Rupavahini Corporation and thereby getting mauled by the employees. This time the promise of a serious disciplinary inquiry against Mervyn Silva is not conducted by the likes of spokesman Lakshamn Yapa. This time it is the General Secretary of the SLFP, Minister Maithripala Sirisena who made the promise. Minister Sirisena again, is one who will not go by Rajapaksa dictates – not always. Since it is only a disciplinary inquiry the more serious charges of bribery etc., will not be on the agenda.
Problems within the ranks of the governing party do not necessarily remain outside the family and confined to the party. The cold blooded murder of an ICRC volunteer on holiday, rape and grievous hurt to his young female partner in a Tangalle tourist hotel that had the Chairman of the Tangalle Pradeshiya Sabha identified as an accused in the crime, along with six others, proved the regime is infested with many Mervyns and Dumindas, down the line. What was nevertheless not much to the liking of Uncle Basil, was "junior's" move to script a "Duminda Silva" type exit from the crime, for accused Sampath Vidhanapathirana. Regardless of junior throwing his weight behind Vidhanapathirana, Basil had the Tangalle police go about their business without hindrance.
For Basil, it was his pet project "tourism" that was being hacked to naught in Tangalle, with junior trying to play local politics. The "Thorntree" thread in the internationally famous tourism website "Lonely Planet" carried a comment that summed up the issue: "Whatever you do, do not cross the thugs around local politicians and businessmen. You may come across them in restaurants, nightclubs, bars and casinos. It seems that this unfortunate couple made the mistake of 'dissing' them. They cannot be seen to lose face in public and so the tragedy took place."    (http://www.lonelyplanet.com/thorntree/thread.jspa?threadID=2143802 )
Reshuffle or Not
Tourism or not, for the Rajapaksas it is not news first, but "family first". For the ruling family this brewing and fermenting of conflicts and even cabinet reshuffles, boils down to how safe the family is in the political firmament. Thus the talk of the latest reshuffle to take place this coming Monday, with big brother Chamal whispered to be sworn in as Prime Minister. He will be third in succession under the Rajapaksa presidency and this has many SLFP Seniors grumbling along party corridors.
Prime Minister Jayaratne obviously would not be happy to hear of such a move. But for President Rajapaksa, even a senior and affable PM like Rathnasiri Wickramanayake could be moved out without much ado. President Rajapaksa was once heard saying to a close buddy ( not in politics) over dinner, that none of them could do anything. "Where can they go? There is no Opposition," he had told the old pal. In local politics, "no opposition" remains the only unchanged value in the equation, The rest keep changing.
The Irrigation sector is not what made Nimal Siripala happy as a minister. His appointment as the next Speaker replacing Chamal Rajapaksa also would not be that good for a man who has many gyrating fancies, a la "W W and Song". To date, there are only 5 senior SLFPers as ministers of cabinet rank, with Wickramanayake and Fowzie tagged simply as  "seniors". They remain sore. Even the speculation of a reshuffle does not count them in. Will the President's assessment of his rankers hold true? And for how long?
There is a sure sign, the Rajapaksas do not have much trust in their own ministers and MPs. The Chairman, Sri Lanka Bureau of Foreign Employment, who was the only Chairman to continue despite ministerial changes from Athauda Seneviratne, to Keheliya Rambukwella to Dilan Perera, has requested he be placed elsewhere, saying he cannot work with the latter. Dilan Perera obviously has his own agenda that leaves the President's appointee clueless.
Chairman Senadhilankara as the presidential appointee to the Fisheries Harbour Corporation, is a thorn in Minister Senaratne's side. It is also said that Senaratne has problems with the ministry Secretary, who has now been moved to the SLBFE. Minister Senaratne should be happy with that move, but will he remain with fisheries after a reshuffle?
Chamal for PM
Small as they may seem, the Rajapaksas feel the rug is being pulled from under, much to their chagrin. They have been pushed to a "damage control" mode. Left with a chess board that has only the King, Queen and a few trusted pawns around to depend on, there is not much thought for any "dubious" moves. In a regime that is constantly scheming behind the scenes, there is reason and logic  within the SLFP high rankers that Chamal is to be brought in as PM.
Constitutionally the next in line within the power structure is the Prime Minister and not the Speaker. The role of the parliament seems to be waning off, with even the two thirds majority not paying the dividend the Rajapaksas seek. Backing off on all hurried Bills and demands on pay hikes the regime which once said "no way", is showing that there is a ploy in marking time till they get their act together. Rajapaksa, named even by the late Prabhakaran as a "pragmatic man" who could make sound decisions, surely knows it is not wise to invite trouble from many fronts.
If President Rajapaksa's move in withdrawing from a direct conflict with agitating masses who get on the streets is to gain time, what remains then to be seen, is the role of brother Gotabhaya as the Secretary to the Defence and Urban Development Ministry. He was heard presenting a new method to governance with emphasis laid on the holding of peace. Invited to speak on future challenges to national security, he dwelt at length on establishing a case for a "robust democracy" in the country, which would require a heavy military presence with increased budgets and camps from Point Pedro to Dondra Head.
LTTE Bogey Again
He was certain that any change of government would have to wait till a date is given to go to the polling booth, and that too in a method decided by the regime. Protests he said were welcome, but would not be allowed to disturb the hard won peace. Patriotism is being brought back as a key word, with a new LTTE threat, thrown in for public consumption and good measure.
(For updates you can share with your friends, follow TNN on Facebook, Twitter and Google+)