India drops 'traditional fishing right' in Lanka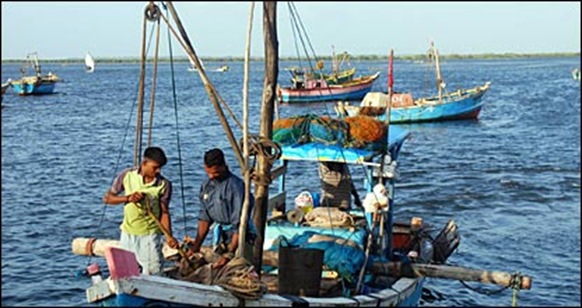 Minister says the agreement reached at the summit is a victory for Sri Lankan fishing industry
Indian government has agreed to withdraw its claim of "traditional fishing right" in Sri Lankan territorial waters, a Sri Lankan cabinet minister has said.
Fisheries Minister Rajitha Senarathne said the agreement was reached at a two-day bilateral summit held over the weekend in Colombo.
"In all previous joint communiqués it was stated that India has a traditional fishing right in Sri Lankan waters," the minister told Jeyapragash Nallusamy of BBC Tamil service.
"But our argument was that something that was agreed since 60s cannot be regarded as a traditional right especially because it was only in 1976 that the international maritime boundaries were earmarked," he added.
'No more arrests'
The agreement, according to Minister Senaratne, is a victory for Sri Lanka fishing industry.
The minister said the summit is aimed at preventing Indian and Sri Lankan fishermen fishing in each others territorial waters.
The Indian government, added the minister, also agreed to withdraw all lawsuits against Sri Lankan fishermen in Indian courts.
"And they agreed not to arrest any Sri Lankan fishermen in Tamilnadu but to hand over any fishermen found crossing the boundary to Sri Lanka navy," he said.
The high level summit is attended by senior officials from both countries and the fisheries commissioners of southern Indian states of Tamilnadu and Andra Pradesh.
(For updates you can share with your friends, follow TNN on Facebook, Twitter and Google+)