Now, It Is Very Clear Sir !
The Rajapaksa government seems to be extremely careful, with issues they don't have adequate answers for. They've withdrawn 03 Bills that were designed with much importance, since May last year, despite their two thirds majority. How will the Rajapaksas react ? The answer again is a dead horse, the horse they claimed to have killed in war. This is how the rationale for that is being developed.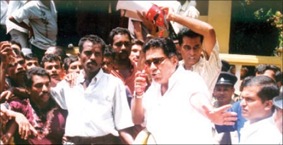 "While this problem seems to be mostly international, we must realise there is a possibility, though a remote  one at this stage, that terrorists will reorganise within this country. As  mentioned  before, one of the stated objectives of the LTTE-linked groups abroad  is to encourage and facilitate the resumption of an armed struggle in Sri Lanka."
"We must not forget that there are also LTTE cadres who escaped detection and detention during the Humanitarian Operation, and are still at large in our society. Unlike the detainees and surrendered  cadres, these individuals have not undergone rehabilitation and their terrorist intentions may remain unchanged. Even among the cadres who were rehabilitated and reintegrated into society, there could still be some individuals who have not entirely given up  their belief in militancy."
"The LTTE was a deadly threat, and it is only two and a half years since its military arm was defeated. We are very much aware of the efforts being undertaken in the international arena by the LTTE-linked groups to keep the separatist cause alive. The  regrouping  and reorganising of terrorists within Sri Lanka is still a threat to our national security."
"In sum, even though the war ended  two and a half years ago, there is still a need for the continued existence of a strong military within Sri Lanka. This is a fact that the vast majority of Sri Lankans are more  than happy with."
"It must also be emphasised that, as a sovereign state, Sri Lanka has every right to set up military establishments in any part of its territory. The role of the military is ensuring the safety, security and sovereignty of this country."
These are all direct quotes from the speech made by the Defence Secretary (DS) Gotabhaya Rajapaksa on 10 January, 2012 at the Sri Lanka Foundation Institute (SLFI), on the topic, "Future Challenges to National Security in Sri Lanka". Quoting such large chunks off his speech, allows less writing on my part to prove, he is not just contradicting himself, but is posing a bigger threat to society in all its safe and democratic living.
Rubbishing our claims that this whole country is being militarised, which claim the LLRC has also accepted in its report quite cautiously but unambiguously as correct, the Defense Secretary says, "There are military  establishments in every part of Sri Lanka. There are camps not just in the North and East, but also in the South, the hill country and in Colombo. The claim that this represents militarisation is pure nonsense." (emphasis added)
What then is militarisation ? It is that  very "grand" presence, added to all what the LLRC Report says, the military should refrain from doing. Just to remind the DS of what the LLRC Report said about militarisation, here is a short quote. "The Commission, as a policy, strongly advocates and recommends to the Government that the Security Forces should disengage itself from all civil administration related activities as rapidly as possible." (page – 237) That too sums up all talk about "militarisation," quite contrary to what the DS said about military involvement. He said, "….for a short period of time after May 2009, the military stepped in to fill the  breach and assist in administrative activities which are carried out by civilians. However, now that the situation has normalised and the civil service is back in place, the military is no longer involved in administration."
Is the Commission appointed by HE the President on 15 May, 2010 under the provisions of Section 2, of the Commissions of Inquiry Act (Chapter 393) "reposing great trust and confidence" in the Commission and in the "prudence, ability, independence  and fidelity" in the persons so appointed to deliver on the mandate given, documenting and reporting "pure nonsense" after all their hearings in various parts of the country from many citizens of varied perceptions, including the much hyped lengthy submission made by the Defense Secretary himself ?
There is clearly a difference in perceptions between the two and a clear change of social scenarios from what was there when Gotabhaya made his submissions to the LLRC on 17 August 2010, to what the  Rajapaksa regime is facing on 10 January, 2012 when Gotabhaya spoke at the SLFI.
There were NO signs of student unrest in universities, no worker revolts in factories against a forced pension, no worker agitations for higher wages, no protests by disgruntled university academics for salary increases and an increased budget for education, no mega breakdown in education prompting parent and student agitations, then in August 2010 that was only 03 months and a few weeks after the Rajapaksa led election campaign secured a two thirds majority in parliament. Everything then seemed perfectly under their control here within our shores and the issue was how best the regime could deflect the international campaign on accountability over allegations of serious crimes committed during especially the last phase  of  the war. Campaign against war crimes and crimes on humanity.
Now  the regime is faced with real time trade union agitations, protests and a whole string of disturbances in universities that has taken a viral effect in society. The government was forced to withdraw Bills they planned to present in parliament and offer salary increases going up to 18%. They have prompted protests within their party ranks. The whole of the Kelaniya Pradeshiya Sabha SLFP group with its dissenting Chairman, demand Mervyn Silva's expulsion from Kelaniya SLFP organisor's post. They went public, accusing him of extortions in millions of rupees and crimes that nails him as an underworld thug. Kelaniya PS members were supported by another resolution passed by SLFP councilors in Mulatiyana, in Matara district.
There is now a militant mood in society gathering heat on issues the government is seen as deceptive and incapable of providing adequate answers to. That certainly makes the regime itchy with "suspects" and conspiracy stories whispered around within their own ranks. All such regimes go tough saying "no nonsense" with us. Thus the "LTTE terrorists" story given a new spin, with garnishing brought from the Sinhala South.
Speaking in a function in Jaffna, Higher Education Minister Dissanayake was reported saying, that undergrads from universities in the South  with affiliations to the breakaway group of the JVP had come to Jaffna and that, "These students came to the Jaffna University in search of youth who were with the LTTE at that time. They are trying to  go for an armed struggle. We cannot allow that to happen."
Stories were sent around to say this JVP dissident group is being funded by the LTTE rump in the Diaspora. There is also an attempt at creating an "elusive rebel" from the character of one "Kumar mahathtaya" projected as the key activist in breaking up the JVP. Between Dissanayake and Gotabhaya, the reports spun across media fits into a scheme the regime is trying to establish for a crackdown on all protests.
Here's Gotabhaya again, "A more  realistic potential threat to our national security is the possibility that certain groups may strive to create instability in Sri Lanka through indirect methods. Having seen political change accomplished in countries such as Tunisia, Egypt and Libya through uprising, some parties  that have failed to achieve their objectives through democratic means might resort to such activities even here. This is only a very minor possibility, but we have already seen certain groups encouraging students to take to the streets in various protests in the recent past."
Gotabhaya's prescription for those who want to oppose the government is, they should wait till the next  elections. "Unlike the countries in which dictatorships reigned before being  derailed by popular uprising, if the people wish to change the Government in Sri Lanka, they can do so without any problem at the polling booth" he says, referring to what's now popularly termed the "Arab Spring".
His advice would have been nothing less than an innocent joke, in an after dinner talk, had he told those people who dined 18 nights at Tahrir square, continuing with protests that threw Hosni Mubarak out of power, they should do it at the "polling booth". Well, its not that Egypt was without elections. They were having regular elections to elect the President and for a bi-cameral assembly. Unfortunately for the Egyptians, these  elections were much like those in Sri Lanka, criticized by the domestic  opposition as well as international observers as being grossly fraudulent, bordering on "show elections".
It would not be relevant here either to all those workers who come out on the streets demanding immediate salary increases, for parents and students who want an urgent answer to the A/L exam results muddle and for university academics who claim they have been badly let down by the regime on their compromise over salary increases. That protest would not and can not wait for elections to come.
(For updates you can share with your friends, follow TNN on Facebook, Twitter and Google+)