Teacher's trip boosts Sri Lanka link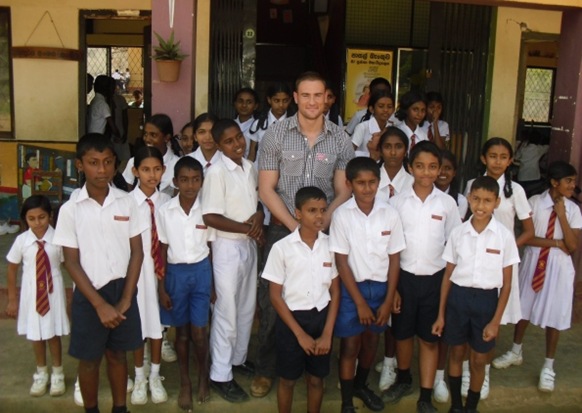 A GEOGRAPHY teacher has been on a field trip with a difference – to distant Sri Lanka.
Daniel Sutcliffe, head of Geography at Poulton's Hodgson Academy, spent a week at a Sri Lankan school to mark the start of a new international partnership.
But his journey was no walk in the park as it took 36 gruelling hours for him to get to his destination, the Sujatha Maha Vidyalaya school.
But when he arrived, a large welcoming ceremony, complete with guard of honour and a dance performance was waiting for him.
The teacher was greatly impressed with what he saw during the trip, particularly with the attitude of the people.
He found a community with a refreshing attitude towards education and the importance of schooling.
Mr Sutcliffe said: "When I went walking around the local town, people I hadn't met would shout out 'Hello Mr Daniel.'
"The biggest cultural shock for me was the genuine appreciation for education there was in Sri Lanka.
"The children are so desperate to learn.
"They are keen to break the cycle of poverty and see education as the way forward to do that.
"It was also amazing to see a group of parents helping to build a new classroom at the school.
They are really involved in school life and are keen to help in any way they can."
Hodgson Academy on Moorland Road, has been linked with the Sri Lankan school as part of the Global School Partnership on behalf of the British Council.
Students from each school have already been in touch with each other, swapping video diaries.
Mr Sutcliffe's trip marked the start of the new partnership with the school.
The partnership is aimed at promoting new cultures, customs, lifestyles and sustainability projects.
Mr Sutcliffe also found time to explore the area, which has several attractions for visitors.
His visit included trips to local places of interest, and a stop off at what is believed to be the oldest surviving wooden bridge in the world.
The Bogoda wooden bridge is estimated to be more than 400 years old and is in the Udawalewe National Park.
There was more in store for the English visitor as he prepared to leave the school. The Sri Lankan students wore traditional costumes during a ceremony to mark Mr Sutcliffe's departure at the end of the week.
Now there is a chance that the Poulton School may return the compliment.
Plans are being made for a representative from the Sujatha Maha Vidyalaya school to come to England and visit Hodgson Academy in the next few months.
(fleetwoodtoday.co.uk)
(For updates you can share with your friends, follow TNN on Facebook, Twitter and Google+)