US sanctions put Sri Lanka in tight spot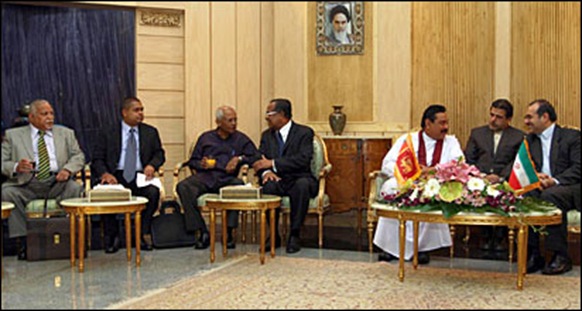 Sri Lanka and Iran have had a close relationship during Rajapaksa presidency
The Sri Lankan government says it is looking for importing crude oil from Qatar and Oman following latest US sanctions against Iran.
Petroleum Resources Minister Susil Premajayanth told BBC Sandeshaya that the government was informed by the US of the latest sanctions against Iran.
"We refine approximately 40,000 barrels of crude oil a day that was imported from Iran," he said.
The refinery that was built in late 60s, said the minister, can only refine either Iranian Light or AramCo which is imported from Saudi Arabia.
Apart from one shipment a year from Saudi Arabia, Sri Lanka imports most of its crude oil from Iran.
"With the latest US sanctions, of which we were also informed, we have six months period to prepare," Minister Premjayanth told BBC Sinhala service.
At the same time, the government will discuss importing crude oil with Emir of Qatar who is currently visiting Sri Lanka.
"Although Oman Light is not the same as crude oil imported from Iran for example, we will be able to blend and use it and we are also looking at other options such as Qatar," added the minister.
Oman's minister in charge of Oil is also expected to visit the island at the end of this month.
Sri Lanka "is in a virtual straitjacket," according to Reuters, as the United States tries to tighten the noose on Iran in an attempt to control its nulcear programme.
The United States is Sri Lanka's biggest trade partner.
President Barack Obama signed a new law on New Year's Eve that imposed sanctions on financial institutions that deal with Iran's central bank, which clears oil payments.
Washington has already imposed sanctions on a Chinese oil company and in Singapore and the United Arab Emirates.
(For updates you can share with your friends, follow TNN on Facebook, Twitter and Google+)