War panel report a 'fatal contradiction'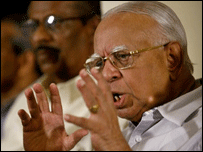 The main Tamil political party in Sri Lanka says the report of the government appointed war panel has failed to win the confidence of the Tamil community.
The report of the Lessons Learnt and Reconciliation Commission (LLRC) also reveals "a fatal contradiction," said the Tamil National Alliance (TNA) in its first response to the report.
"On the one hand, the LLRC unquestioningly accepts the narrative provided by the security forces –that they carefully and meticulously planned each attack," said the detailed response issued by the TNA on Sunday.
The LLRC in its report has admitted that civilian casualties did occur, contradicting initial government statements of "zero civilian casualties," as a result of military operations.
International investigation
"On the other hand, the Commission concludes that the civilian deaths, which did in fact occur, were unintentional and resulted in from an unprecedented situation where no other choice was possible."
Saying that the panel "falls dramatically short" of international standards on accountability, the TNA points out that it did not have a proper witness protection programme.
It also accuses the LLRC of failing to call for "crucial evidence" taken by Unmanned Aerial Vehicle (UAV), videos of aerial attacks by the military and military log books.
"Such vital evidence points towards a systematic attempt on the part of the government to prevent food from reaching the starving population of the Vanni," it said.
The TNA is also highly critical of the "vague" recommendations by the panel in terms of devolution of power and says the views recently expressed by President Mahinda Rajapaksa regarding the 13 amendment to the constitution reiterates fears of Tamils that the government is "not genuine" in finding a political solution.
Sri Lanka's major Tamil party, however, says it welcomes some positive recommendations including disengaging the military from civilian activities.
But the need for an accountability process that meets international standards is the need of the hour, according to the TNA.
(For updates you can share with your friends, follow TNN on Facebook, Twitter and Google+)