India Asks Sri Lanka to Work on Reconciliation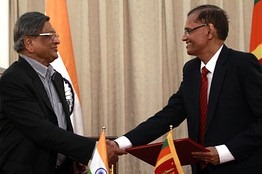 (AP)India asked Sri Lanka on Tuesday to work toward genuine ethnic reconciliation amid international criticism that the island nation is not addressing the root causes of its civil war, which ended more than two years ago.
India's External Affairs Minister S.M. Krishna, who is on a four-day visit, said "it's our hope that the vision and leadership that resulted in an end to the armed conflict will now be employed in the quest for a genuine political reconciliation."
Sri Lanka's civil war ended in May 2009 after the government troops crushed the separatist Tamil Tiger rebels, who were fighting for a separate state for the ethnic minority Tamils. The conflict killed 80,000 to 100,000 people.
During the war, Sri Lanka President Mahinda Rajapaksa promised to consider giving Tamil areas more autonomy–a long-standing demand of moderate minority politicians–but he has yet to present a proposal.
Mr. Krishna said Sri Lanka has repeatedly given commitments to move forward with a plan to devolve some power to provinces, and that India hopes for an "expeditious and constructive approach" in the process.
New Delhi has been reluctant to get directly involved in Sri Lanka politics since a disastrous military intervention in 1987, and it is not offering to broker talks. But it has a keen interest in the dispute because southern India is home to 60 million Tamils.
(For updates you can share with your friends, follow TNN on Facebook, Twitter and Google+)