No pressure from India on Sri Lanka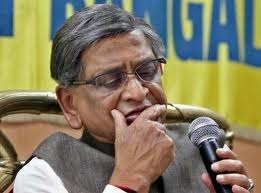 India says it will not put pressure on Sri Lanka to achieve a political solution within a stipulated time-frame.
Indian external Affairs Minister S.M Krishna told reporters in Colombo this afternoon (Tuesday) that India respects Sri Lanka's sovereignty and territorial integrity.
He said that the government of Sri Lanka has on many occasions conveyed to us its commitment to move towards a political settlement based on the full implementation of the 13th Amendment to the Sri Lankan Constitution, and building on it, so as to achieve meaningful devolution of powers.
"We look forward to an expeditious and constructive approach to the dialogue process.  We believe that continuation of the dialogue between the Government and the TNA would pave the way for political settlement, including under the rubric of the Parliamentary Select Committee," he said.
Krishna also said that during a meeting he had with President Mahinda Rajapaksa this morning the President assured him that he stands by his commitment to pursuing the 13th Amendment plus approach.
Krishna also said that India has noted the many constructive recommendations contained in the recently-released report of the Lessons Learnt and Reconciliation Commission (LLRC).
"These recommendations, when implemented, would mark a major step forward in the process of genuine national reconciliation, to which the Sri Lankan government is committed. Sri Lanka must seize this opportunity," Krishna said.
He also said that he had discussed with Sri Lanka the issue of fishermen which he said is an emotive issue and needs to be handled with care on both sides.
(For updates you can share with your friends, follow TNN on Facebook, Twitter and Google+)