Govt behind abductions – Fonseka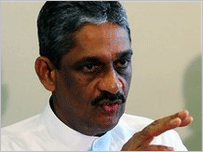 The former army commander of Sri Lanka has accused the government for being responsible for series of abductions and disappearances recently reported in the north.
Former general Sarath Fonseka made the accusation as he was brought to Colombo High Court as a suspect of a case involving alleged corruption when he was the army commander.
The government on Thursday said that it does not have any information on the whereabouts of Lalith Kumar Weeraraj and Kugan Muruganathan, who went missing in Jaffna since 09 December.
Quoting from a police report, Leader of the House Nimal Siripala de Silva told the parliament police are yet to get any important leads on the incident.
Saying that he "condemns abductions," Mr Fonseka said: "The government should take the responsibility for it (abductions)."
Mr Fonseka also accused the current security forces commander in Jaffna, of being responsible for the spate of abductions and disappearance in Jaffna.
"The commander in Jaffna is the one who took Rs 30,000 a month as a bribe from the terrorist leader in Colombo during the war. He is the one who is behind these incidents" he added.
The military under Mr Fonseka is also accused of gross human rights violations including abductions and involuntary disappearances.
The Appeal Court had earlier accepted a petition submitted by the parents of two missing human rights activists asking the court to order the army commander in Jaffna to produce them before courts.
The activists of JVP affiliated Jana Aragalaya (People's Struggle) were in Jaffna to organise a protest to commemorate the International Human Rights Day.
(For updates you can share with your friends, follow TNN on Facebook, Twitter and Google+)