Kalam advocates civic amenities programme for Sri Lanka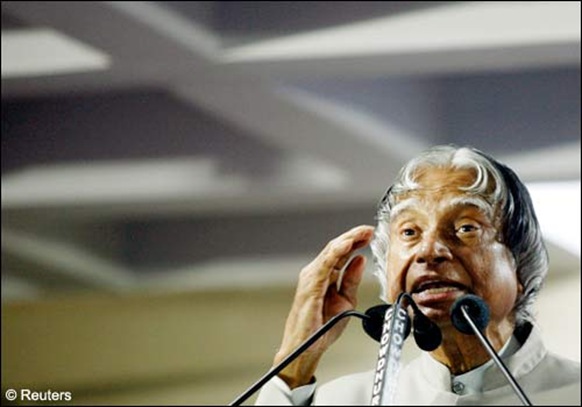 (IANS) Chennai: Former Indian president A.P.J.Abdul Kalam Saturday urged the Sri Lankan government to implement the provision of urban amenities in rural areas (PURA) programme to eradicate poverty, hunger and pain from disease.
A sustainable system to act as enabler should be evolved in order to realise an environment of inclusive growth where every citizen in a noble nation gets an opportunity to build capacity and generate income based on their competencies, said Kalam. He was speaking in Colombo at the launch of National Action Plan and declaring 2012 as the year of Triligual, according to his speech released here.
Sri Lankan President Mahinda Rajapaksa Saturday launched the programme that will make sure the people of the island nation learn the three main languages – Sinhalese, Tamil and English.
"One such sustainable development system is the mission of Provision of Urban Amenities in Rural Areas (PURA) through creation of three connectivities – namely physical, electronic, knowledge – leading to economic connectivity for 15,000 villages of Sri Lanka," Kalam said.
He said the Indian government is moving ahead with the implementation of PURA on the national scale across several districts of India.
"With 16 million rural citizens, represent about 79 percent of the population, Sri Lanka has a potential of deploying about 160 PURA complexes based on the core competencies of the cluster of villages," the former president said.
According to him, the PURA programmes could be implemented based on regions – coastal, plain and hill.
Volunteering to participate in the planning of pilot PURA complexes in Sri Lanka, Kalam said the programme could be implemented in "an entrepreneurial way, with public-private-community partnership model with active involvement from all the diverse societies of the nation."
He said the 21st century would see a fully evolved world while people can realise happiness, dignity of life, freedom and creativity only when nations become noble.
(For updates you can share with your friends, follow TNN on Facebook, Twitter and Google+)