Former Tigers 'threatened' in north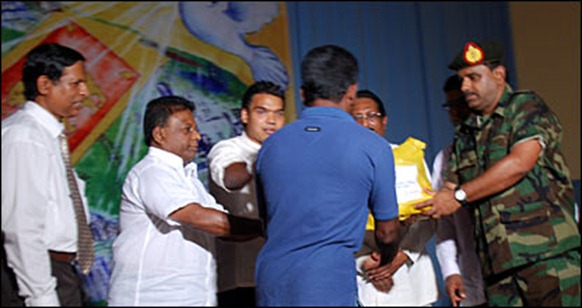 These former LTTE cadres are now forced to live under the watchful eye of military intelligence, says Councillor MK Sivajilingam
The military in Sri Lanka is constantly threatening former Tamil Tigers who were released in the north following rehabilitation, to stay away from political activities, local politicians say.
The former combatants are particularly told by military not to engage with the Peoples Struggle Movement (PSM), Velvettithurai Urban Councillor MK Sivajilingam told BBC Sandeshaya.
"This is a denial of their political rights," he said.
PSM is a breakaway group of Janatha Vimkuthi Peramuna (JVP).
The Sri Lanka army, however, has categorically rejected the accusation.
Military rejects
Military spokesman, Brig Nihal Hapuarachchi told BBC Sandeshaya that while the police keep an eye on the activities of the former rebels, the military has no role to play after they were released.
"These former LTTE cadres are now forced to live under the watchful eye of military intelligence," said Mr Sivajilingam.
The situation is widespread in Jaffna islands and in the Vanni.
"Some of them are told to report to the military once a week and others are told to come once a month," added the former MP.
He declined to reveal specific details fearing retribution by the military.
Brig Hapuarachchi, however, says neither the local media nor local councillors have raised such an issue with the military.
"It is true that the police are keeping an eye on those former Tamil Tigers for about an year," he told BBC Sinhala service.
Denying any threat by the military the spokesman however said that the aim of the police supervision is "to take necessary action if in case these people getting involved in any unnecessary activities," he added.
Insisting that it is not wrong for the police to supervise them, Mr Sivajilingam says it is the threats to their day to day activity that needs to be stopped.
(For updates you can share with your friends, follow TNN on Facebook, Twitter and Google+)