Kalam risks his image in salvaging New Delhi in Tamil Nadu
While India's former president Abdul Kalam has real work to do in addressing his own Establishment in New Delhi what brought him to genocidal Colombo and its India-partnered colony in the North and East of the island, wonders genocide-affected Eezham Tamils. Mr. Kalam may not be worried about criticism against him, as his interview to The Hindu has shown. But the general public is worried about India's projected 'sane' faces getting more and more discredited, paving way for people distrusting any face that come from India in future, comments an academic in Jaffna. Kalam and India know that the deception will not work with Eezham Tamils but the mission is more aimed at engineering opinion in Tamil Nadu for the 'Asian Model' the Indian imperialism is experimenting in partnership with Rajapaksa, the academic further said.
Further comments from the academic in Jaffna follow:
"Mr. Kalam is going to Sri Lanka to participate in the launch of the 'Trilingual Initiative,' an ambitious programme of Sri Lankan President Mahinda Rajapaksa that seeks to encourage Sri Lankans to learn all three languages spoken in the multi-ethnic country — Tamil, Sinhalese and English," reported The Hindu on Saturday.
The so-called Trilingual Initiative without conceding the territoriality of the nation of Eezham Tamils, who are militarily subjugated and colonized in their land, is an indirect way achieving the 'Sinhala Only' of 1958.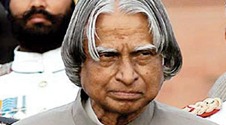 Dr. Kalam preaches the virtues of learning in mother tongue. But how the genocidal Sri Lankan state is capable of changing the mother tongue itself in two or three generations could very well be seen in the case of the Katpiddi-Puththa'lam-Chilaapam-Neerkozhumpu region of the Western and North Western provinces.
Colombo's LLRC report has fixed 2020 as the year to complete the structural genocide of Eezham Tamils as a nation, through the deceptive 'Trilingual Initiative' and Dr. Kalam has come to 'inaugurate' it.
In the interview to The Hindu, Kalam dodged the crucial question about Sri Lanka accommodating the political and cultural interests of Tamils by vaguely talking about wellbeing, individuality and happiness of every citizen.
But, inaugurating Rajapaksa's 'National Action Plan' in Colombo on Saturday, Kalam came out with poetry, specifying his dream: "Oh, Sri Lanka, Oh youth of Sri Lanka, If God is for us, who can be against."
Does he mean that the wish of God was for upholding Sri Lanka by committing genocide of a nation? If so, that nation does not need that God either.
"War is never a lasting solution for any problem," Kalam told The Hindu. Where have he and his ilk gone when 140, 000 Tamils went unaccounted for in the India-partnered war?
* * *
In Colombo, Kalam was talking about the 'birth of Ahimsa' in the empire of Asoka, 2300 years ago – a favourite glorification of ancient imperialism by the elite of the New Delhi establishment to set illusions of their imperialism and its expansionism today. Asoka's 'Ahimsa' that regretted in his inscriptions for the death and maiming of hundreds of thousands in the Kalinga War never gave back the country of the Kalingas to the Kalingas.
Immediately after the Eezham War, we had seen another Mauryan Empire specialist and 'sane' academic Romila Thapar from New Delhi, coming and preaching on 'reconciliation'.
In his speech in Colombo, Kalam didn't fail to bring in Mahatma Gandhi and his Ahimsa. Gandhi's Ahimsa was coupled with Non-Cooperation model of struggle against imperialist oppressors. But Kalam in Jaffna was advising the youth to cooperate with the 'development' of genocidal Sri Lanka sponsored by Indian imperialism.
Kalam admired South African model of tolerance after its liberation from apartheid. But when there was apartheid in South Africa it was not tolerated by the international community, including India. Why now Kalam's India makes genocide a paradigm for its 'Asian Model'?
Suffering people of South Africa under the apartheid regime found solidarity when the country was boycotted in international games. The same South Africa today plays cricket with genocidal Colombo. May be because of the kind of tolerance Kalam was preaching in Colombo with citations from Thirukku'ra'l.
* * *
In Colombo, Dr. Kalam was also citing the model of European Union.
"We have an example of how European nations, who were constantly warring against each other for centuries could come together in a European Union and help each in times of economic crisis and create a win-win situation for a society which is otherwise diverse on counts of religion, language and ethnic backgrounds," Kalam said.
Eezham Tamils are not against such a model in South Asia provided they are recognized as a nation in such an entity. But one need not tell Dr. Kalam that Indian imperialism is the foremost impediment for such a unity in South Asia. Dr. Kalam has to tell this to the New Delhi establishment and when India matures enough for such a union in South Asia, Eezham Tamils as a nation would sure be willing partners of it.
* * *
Dr. Abdul Kalam long served as a key person in the military establishment of Indian imperialism. That orientation of him looks stronger, making his philosophies and Thirukku'ra'l only superficial, as at his age and relatively independent disposition he has thought of risking his life-earned reputation even among his own people by sitting with genocidal Rajapaksa for the sake of the designs of India's imperialism.
In a war-torn land, where the Eezham Tamils and their fighters were the worst sufferers at the hands of the militaries of Sri Lanka and India, and while the Eezham Tamils are deprived of even paying homage to their dead, Dr. Kalam was one-sided in paying tribute at the IPKF memorial on Sunday.
Kalam and MS Swaminathan at a higher level, and Natchiappans at another level, are faces from Tamil Nadu the New Delhi establishment launches to lure and engineer opinion among the elite as well as the enraged masses in Tamil Nadu.
The philosophy of the message is simple. Give the philosophy of reconciliation, tolerance, development etc., to the subjugated Tamils. Don't bother about their sovereignty, right to self-determination, militarisation and colonisation of their country or even their self-respect. Make partnership with Colombo in grabbing land and money of the 'conquered' nation. Let Tamil Nadu also participate in it, is the message.
* * *
On January 9, The Hindu reported a former Indian diplomat G. Parthasarathy, close to the newspaper's establishment (not the G.P. of the Nehru-Indira Gandhi times), talking on "economic integration" of the North and East with Tamil Nadu.
"Mr. Parthasarathy suggested setting up industrial training and engineering institutions in the North and East of Sri Lanka that would, within a generation, result in the economic integration of the markets in these areas with that of Tamil Nadu—something that Sri Lanka could be persuaded to see as not beneficial merely for Tamils but for the greater common good," The Hindu reported.
In the present-day world where politics is invariably trumped by economics, India has to have a drastic rethinking of its policy in favour of economically empowering the Tamils in Sri Lanka as a sustainable solution for their rehabilitation, the diplomat reasoned out.
According to The Hindu, the diplomat opined that the line of thought about condemning Sri Lanka for human rights violations should be abandoned, for India may not find support from China, the Islamic World, the Asian Bloc worried about sovereignty and a wavering USA.
The excuse is farce as in all international instances India was seen leading in setting the stage for shielding genocidal Sri Lanka. It is a known secret where the responsibility for the crime of the genocide would ultimately be traced to, if there were any independent international investigation.
Politics is not invariably trumped by economics. On the contrary, any genuine economic empowerment comes from political freedom, resultant sense of belongingness and culture of the concerned people. It is only the economy of imperialism that aims at keeping politics away from people, and that is the economy the New Delhi-Colombo partnership wants to impose on Eezham Tamils.
Last week, the editor-in-chief and publisher of The Hindu and its group of publications, Mr. N. Ram officially stepped down, paving way for a group of editorial successors, groomed by Mr. Ram to continue his particular shade of political affiliation. The stand of this particular shade of politics, especially when it comes to the national liberation cause of Eezham Tamils, is well known.
Dr. Abdul Kalam has now been brought into the galaxy meant for New Delhi's opinion-engineering process. How Tamil Nadu would respond to the developments, Eezham Tamils await to see.
(For updates you can share with your friends, follow TNN on Facebook, Twitter and Google+)