Kalam unaware of Tamil fishermen's plight
Jaffna District fisheries societies representatives on Monday urged the visiting former Indian President Dr. APJ Abdul Kalam, who was in Jaffna as part of his visit to the island, to impress upon the Indian government to facilitate the Eezham Tamil fishermen to resume their livelihood by containing the Indian poachers who destroy the nets of the local fishermen and cause serious destruction to the environment necessary for sustaining the fisheries industry. Dr. Kalam was listening to the plight of the fishermen in the peninsula as if he was totally unaware of the decades long dispute in the sea and the destruction caused to the Eezham Tamil fishermen by the intruding Indian trawlers that engage in poaching close to the coast of Jaffna peninsula. The visiting former president of India, later visited the University of Jaffna and gave a speech at a fully packed Kailasapathy auditorium.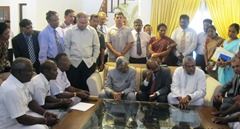 Mr. S. Thavaratnam, the president of the Jaffna district fisheries societies led a delegation urging the former Indian president for a meeting, when the latter emerged out of the bungalow of Sri Lankan colonial military governor in North, Maj Gen (red.) GA Chandrasiri at Chu'ndikkuzhi.
Following the request made by the fisheries society representatives, Dr. Kalam invited them for a conversation inside the SL governor's bungalow.
The fisheries representatives, talking to media after their meeting said they gave detailed information in Tamil to Dr. Kalam on the plight of the Eezham Tamil fishermen.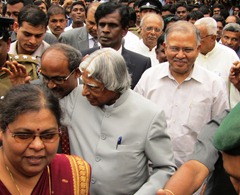 Apart from the immediate destruction of fishing nets of the fishermen in the peninsula by the Indian trawlers that come close to the coast, where the local fishermen are dependent of traditional fishing in a limited sea due to militarization by the Sri Lankan Navy, the Indian poachers cause serious damage to their livelihood in the long run, the fisheries representatives explained to the former Indian President.
The fisheries society representatives also complained that the talks held with their counterparts in India have not given any positive results, despite several rounds of meetings held between them in the past.
The high commissioner of India in Colombo, Asok K. Kantha and SL governor Chandrasir accompanied Dr. Kalam to Jaffna University. The Vice Chancellor of Jaffna University, Ms. Vasanthy Arasaradnam, received the former Indian president at the University.
Despite knowing the farce behind the visit, there was a large crowd of students, teachers and journalists at the Kailasapathy auditorium, due to the charisma behind the name of Dr. Abdul Kalam.
Kalam has undertaken the trip to the island on the invitation of Colombo government.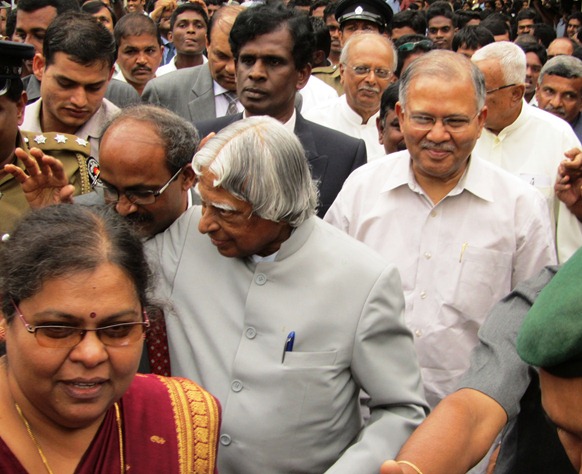 (For updates you can share with your friends, follow TNN on Facebook, Twitter and Google+)