Federalism not evil says minister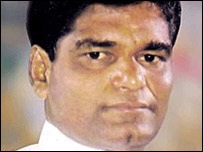 A provincial council minister representing the government has called for a national dialogue over devolution of powers to provincial councils.
Wimalaweera Dissanayake, a minister in Eastern Provincial Council (EPC), was commenting on the recent proposal by the EPC calling for the land powers to be devolved to the PCs as per the country's constitution.
The police and land powers should be devolved into the provinces according to the 13 amendment to the constitution adopted after the Indo-Lanka agreement signed in 1987.
'Public support devolution'
However, all governments came into power since then have failed to implement the amendment.
"There is a concept in the country that federalism is evil," he told BBC Sinhala service, Sandeshaya.
Some voters who visit them seeking PC's help resolving their day to day issues also oppose devolving powers to the provincials, he said.
"Therefore, I think, there should be a national dialogue over what powers the provincial councils need," he said admitting that there is opposition to devolution within the ruling coalition itself.
(For updates you can share with your friends, follow TNN on Facebook, Twitter and Google+)