An action plan for Sri Lanka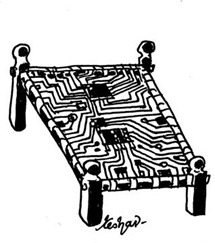 The outline of a sustainable development system to empower villagers.
The process of evolution of human beings has been greatly accelerated by the application of science and technology in several fields. With the expansion of ideas, the geopolitical situation changed and many new independent nations were born in the era of the Second World War. Most of the nations had a great civilisational heritage, but suffered under colonial rule for centuries. After the end of colonial rule, independent nations formed governments of their own, often propelled by democratic aspirations. The process continues, and the 21st century is going to see an evolved world. We are all destined to realise happiness, dignity of life, freedom and creativity — but only if nations become noble.
How do we define a nation's nobility? It is not merely in terms of economic indicators, human development indicators, or any other form of numerical indicators. It is more of a qualitative than a quantitative measure. Naturally, a noble nation has to be populated by people who are noble — not just at the individual level but in a collective sense as well. And nobility has to begin from the top, from the leader, and percolate to various levels of society, down to the artisans and peasants.
Do we have a good example? Is there an ideal description of such nobility?
Opportunities & challenges
When India's first Prime Minister addressed the nation early in the morning on August 15, 1947, he chose the hope of a future in a multi-cultural democratic context and articulation on the issues of a developing country. The uncharted path ahead had vast opportunities but also grave challenges. Everybody in the political system, and many other citizens, had assembled. I heard the historic speech of freedom at midnight, on All India Radio at Rameswaram where many of us had crowded around a community radio. The next day, newspapers carried various photographs. One person was missing in the photos and the addresses. That was Mahatma Gandhi, the Father of the Nation. He was away in strife-torn Bengal among downtrodden people and was giving love and care to those brutalised by the human frenzy of hatred and intolerance. He was trying to find a solution to cure a menace that was poisoning society and people.
Mahatma Gandhi created the benchmark of a noble nation, a noble society and a noble leader, by his simple example of practical action. That scene is playing again and again in my mind. All leaders should capture this scene of a serving leader in their minds and actions.
To evolve a noble nation, let us answer five questions. Am I a noble individual? Is my society noble? Is my nation noble? If it is not, what should I do? How do I change the current situation and move towards nobility?
If we all ask these questions sincerely and answer them truthfully, we will find solutions leading to concrete action. Many noble nations will then emerge. Humanity will prosper. Civilisations will advance.
Benefits for all
Having addressed this subtle principle and ideal, let us focus on some practical aspects of life which provide ground for nobility to arise in society and people. These are the removal of poverty, hunger and pain from diseases. This will need a development agenda based on the core competence of the nation and its entire people.
When different societies come together to build a cohesive social system and a nation, it is necessary to ensure that the benefits of development encompass all sections of society. The world over, poverty, illiteracy, unemployment and deprivation are precipitating into strife, anger and violence. These link themselves to some earlier real or perceived historical enmities, tyrannies, injustices, inequities, ethnic issues and religious fundamentalism, flowing into an outburst of extremism. Both India and Sri Lanka have witnessed, and are witnessing, such acts. We have to address ourselves on the root causes of such phenomena to find lasting solutions to promote peace.
We also need to minimise damage from natural disasters and risks from manmade activity. These give basic human security to enable people not to hate others and not be jealous. For this transformation to take place, we have to replace the urge of "what can I take" with the spirit of "what can I give?"
Buddha said: "Nibbana [nirvana] cannot be had on empty stomach." How can we translate this message into action?
One need of a noble nation is the creation of an environment of inclusive development where everyone gets an opportunity to build capacity and generate income based on competencies. For this, the evolution of sustainable systems which act as "enablers" and bring inclusive growth and integrated development is needed.
Let me present one such sustainable development system: the mission of Provision of Urban Amenities in Rural Areas (PURA) through the creation of three connectivities, namely, physical, electronic, knowledge leading to economic connectivity, for 15,000 villages of Sri Lanka.
PURA means that the villages must be connected within themselves and with main towns and metros by good roads, waterways and, wherever needed, by railway lines. They must have other infrastructure such as schools, colleges, hospitals and amenities for the local population and visitors. This is physical connectivity.
Secondly, in the emerging knowledge era, native knowledge has to be preserved and enhanced with the latest tools of technology, training and research. Villages should have access to good education from the best teachers, wherever they are. They must have the benefit of good medical treatment, and latest information on their pursuits such as agriculture, fishery, horticulture and food processing. That means they need to have electronic connectivity.
Thirdly, once physical and electronic connectivity are enabled, knowledge connectivity is enabled. That can facilitate the ability to increase productivity, utilisation of spare time, awareness of health welfare, ensuring markets for products, increasing quality consciousness, interacting with partners, getting the best equipment, increasing transparency. This, in general, will ensure knowledge connectivity.
The three connectivities
Once the three connectivities — physical, electronic and knowledge connectivity — are ensured, they facilitate earning capacity, leading to economic connectivity. When we Provide Urban Amenities to Rural Areas (PURA), we can uplift rural areas, attract investors, introduce useful systems such as rural BPOs, microfinance institutions and small-scale industries.
Already there are operational PURAs in India, initiated by various institutions. The Government of India is moving ahead with the implementation of PURA on a national scale.
With 16 million rural citizens, who represent about 79 per cent of its population, Sri Lanka has the potential to deploy about 160 PURA complexes based on the core competencies of village clusters. These may focus on three aspects.
Coastal, Plain & Hill PURA
One is Coastal PURA. This will focus on marine industry, including fishing, processing, packaging and sales. Sri Lanka's long coastline can be organised into about 50 coastal PURA complexes, primarily focussing on fishing and also the service industry of sea tourism. Another industry that can be promoted relates to gems and precious stones.
The second is Plain PURA. Based on the inland areas of Sri Lanka, we can realise about 60 Plain PURA complexes, focussing on agro-products and processing of rice and coconut, forest produce, natural and medicinal tourism, and the IT/ITES industry to generate employment for rural youth.
The third is Hill PURA. With large areas of central Sri Lanka being located on highlands, there is potential to create 50 Hill PURA complexes. Suitable weather conditions make them ideally suited for creating an industry based on tea. To consolidate the industry in these regions, the Hill PURAs can promote cooperatives of farmers, who can manage end-to-end production of tea to realise the value of farm produce better. Sri Lankan tea has high value in the export market, providing potential for high income growth to the local community.
(For updates you can share with your friends, follow TNN on Facebook, Twitter and Google+)