No police powers to provinces – President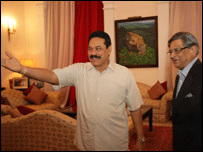 The president of Sri Lanka, Mahinda Rajapaksa, has categorically rejected giving land powers to the provinces.
Indian Foreign Minister SM Krishna told journalists after meeting the president in Colombo on 17 January that Mr Rajapaksa pledged to "go beyond the 13 amendment to the constitution" that devolved land and police powers to the provinces.
The president, however, told local media executives on Monday that he did not make such a pledge to India.
The editor of Navamani newspaper, NM Ameen, who attended the meeting told BBC Sandeshaya that they were told that the president agreed with the Indian minister to look at the proposals to implement a solution to the national issue.
"Although I might be able to travel to the north with the help of Mr Sambandan, I won't be able to go beyond Bentara to the south if police powers are dissolved," Mr Ameen quoted the president as saying.
The talks between the government and the TNA is deadlocked as the Tamil party refuses to take part in the proposed Parliamentary Select Committee (PSC) until the government announces its proposals in resolving the issue.
(For updates you can share with your friends, follow TNN on Facebook, Twitter and Google+)