US sanctions against Iran will hurt -President Rajapaksa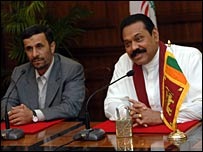 President Mahinda Rajapaksa, said that United States' sanctions against Iran will hurt small countries like his own more than they hurt Iran. No country is more dependent than Sri Lanka on crude oil imports from Iran, and Mr Rajapaksa said his government is considering how it will cope.
President Rajapaksa told journalists 93 percent of Sri Lanka's crude oil supplies come from Iran. That's a much higher proportion than any other country. The island nation fears it will suffer in a few months when the effect is felt of the US sanctions that would punish any financial institution doing hard-currency business with the Iranian central bank, as oil-purchasing nations do. "They're not punishing Iran, they're punishing us small countries," Mr Rajapaksa said.
Waiver
Although Sri lanka does import refined petroleum from other countries, Colombo is worried and is considering alternatives. One is Oman, whose oil minister was here last week and has offered to help with supplies if needed. The choices are limited because Sri Lanka's only refinery is getting old and is best equipped to process the Iranian grade of oil or its near equivalents. Another possibility would be for Sri Lanka to seek a waiver or exemption from the US, as other purchasers of Iranian oil including Turkey have done.
(For updates you can share with your friends, follow TNN on Facebook, Twitter and Google+)