Sri Lanka raise rates, slows lending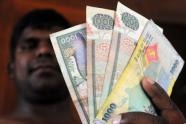 Sri Lanka's central bank on Friday raised its key interest rate for the first time in five years and asked commercial banks to reduce lending in the face of a worsening trade deficit.
The Central Bank of Sri Lanka hiked its benchmark lending rate by 50 basis points to 9.0 percent, the first rise since February 2007 when the rate was upped to 12.0 percent from 11.50 percent.
The bank also asked commercial banks to rein in lending, arguing that much of it financed the country's surging import bill, owing to higher oil costs and cheap credit that drew a flood of foreign-made vehicles into the country.
The Indian Ocean nation's trade deficit hit a record $8.83 billion in the first 11 months of last year, shrinking its foreign currency reserves.
The bank has spent more than $2 billion in recent months in direct market interventions to buttress the Sri Lankan rupee against the dollar as the trade deficit heaped pressure on the local currency.
The bank said Sri Lanka's foreign currency reserves fell to $5.9 billion at the end of 2011, compared with $8.1 billion in July 2011.
Among measures to discourage imports and encourage exporters, the country devalued its currency by 3.0 percent in November.
Central Bank governor Nivard Cabraal said earlier this week that the bank misjudged the credit expansion, as well as Sri Lanka's growing trade deficit.
"Imports were bigger than we expected and the credit growth was also something that we did not anticipate," Cabraal told reporters Tuesday.
The latest interest rate increase came despite the government announcing that inflation had moderated to 3.8 percent year-on-year in January, compared to 4.9 percent a month earlier.
Three years ago, the government was forced to negotiate a $2.6-billion bailout by International Monetary Fund at the end of the country's bloody decades-long civil war.
(For updates you can share with your friends, follow TNN on Facebook, Twitter and Google+)