Tamil woman's death in Norway bares plight of a Nation deprived of international justice
24-year-old Garolin Vinotha Nesarajah, who killed herself along with her 20-month-old baby boy on 16 January in a refugee centre in Førde in Western Norway, was not prepared for her deportation, as she feared she would be interrogated and tortured by the Sri Lanka Army back home, reporters in Jaffna said. Garolin immolated herself along with the baby, the Norwegian police think. Garolin's death raises several questions at the international system that continues to keep the people of the nation of Eezham Tamils deprived of State, deprived of international justice and deprived of psychological security or hope in life, maddening them further and further by pushing them into the hands of genocidal Sri Lanka, social workers in Jaffna said.
When the family in the island was contacted by media, Garolin's father, Nesarajah has said that his daughter, who had joined the Tigers in 2003 at the age of 16, came back home in 6 months as her mother had passed away suffering from cancer.
She chose not to go back to the movement, as she wanted to stay with her brothers and sister, looking after them.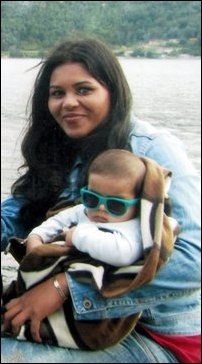 The Tigers wanted her to either re-join the movement or at least come back to the movement and seek formal release by citing LTTE's agreement with the UNICEF on the under-aged cadres.
Her father chose not to send her back to Vanni and instead he sought the help of SL Human Rights Commission in Jaffna to assist her formal release.
Later, Vinotha converted herself from Saivism to Christianity and she became Karolin after receiving baptism from the Full Gospel Church in Kokkuvil, Jaffna, on 30 December 2005. Her name became Garolin in the Norwegian records.
Neighbours of her house in Chaavat-kaddu in Aanaikkoaddai, Jaffna, told reporters that in 2006, during a time when there were abductions and killings of those who had received training from the LTTE were rampant, the Sri Lanka Army was searching for her in Jaffna.
It was some relatives in Norway who provided monetary help to send Garolin out of the island for safety, the family said.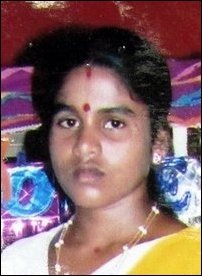 Garolin was the eldest in the family with 3 brothers and a sister: Paran Nesarajah (23) Prasath Nesarajah (21) Meera Nesarajah (18) and Ranjith Nesarajah (17).
After reaching Norway, she was in dispute with her relatives who had initially helped her. She complained to the Norwegian police that she was being forced to pay the money back. The case was investigated as a 'human trafficking' case, according to Norwegian media. The case was later dropped.
Following the rift with her relatives, she opted to live alone and worked at a hotel.
Later, when the Norwegian authorities rejected her application for asylum, she chose to move back to the camp for asylum seekers.
She was living together with a Kurdish asylum seeker, with whom she had a baby boy in April 2010.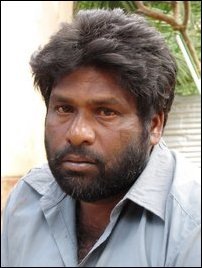 The case of her partner was also rejected for asylum in Norway. Later, Garolin was living alone with her child.
Meanwhile, her younger sister in Jaffna, Meera Nesarajah (18), who was married and had a child, was found dead on 06 December 2011. Initially considered as a case of suicide, her death became later suspected of murder and SL police in Jaffna currently carries out an investigation involving her husband.
Garolin last spoke to her brother, Paran in Jaffna, on 15 January around 3:00 p.m., telling him that she had sent 50,000 rupees for the 45th day ritual of her deceased sister and that she would again contact him on the 19th.
But, she committed suicide the following day on the evening of 16th January.
According to her father, Garolin was regularly in touch with them sending photos of her life in Norway. She also used to occasionally send money despite her own difficulties, her father said.
After the rejection of her asylum case in Norway, the fear of repatriation back to a country where she could be persecuted might have caused her suicide, media reports in Norway said.
The released cadres of the LTTE and those who were formerly supporting the Tigers constantly live under threat, fear and subordination in the island and Garolin's return could have easily become a risk for her, commented media circles in Jaffna.
The argument of the Norwegian immigration authorities in rejecting her asylum case was that she could re-join her family either in Sri Lanka or in Iraq.
According to reasons cited by the Norwegian authorities, there was no evidence for persecution against her in Sri Lanka.
She had been given notice to leave Norway before 10 January and she was living under conditions of deportation at any time.
Garolin was buried in Norway on 27 January after a ceremony at Førde church.
The child was buried before, according to Muslim rites.
Garolin's brother, Paran Nesarajah, was given visa to attend her funeral in Norway.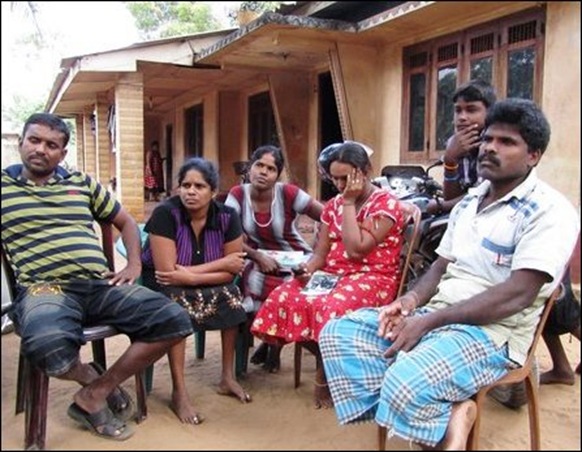 The family of Nesaraja in Chaavat-kaddu, Aanaikkoaddai
(For updates you can share with your friends, follow TNN on Facebook, Twitter and Google+)