Lawyer works to give Tamils freedom here – Winnipeg Free Press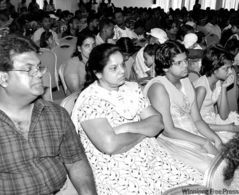 Displaced Sri Lankan refugees yearn for new home in Winnipeg
Winnipeg's globe-trotting human rights lawyer David Matas is trying to help thousands of Sri Lankan refugees stuck in limbo in Indonesia and Malaysia, including a dozen families hoping to come to Winnipeg.
"If you had to start somewhere, I'd say get the kids out of jail and let them go to school," said Matas, who just returned from the southeast Asian countries where close to 5,000 Tamil refugees are stuck.
"It's simple, obvious and not very expensive. It's not a revolutionary idea," said Matas, who went with fellow Winnipegger Sam Ratna, a member of the Transnational Government of Tamil Eelam. They're trying to find a safe, permanent home for 200,000 displaced people. The Tamils can't go back to Sri Lanka and they're not welcome to stay where they are now, Matas said in a 42- page report.
In Malaysia, one of four sponsored families waiting to come to Manitoba was thrilled to see the men from Winnipeg.
" 'When are we coming to Canada?" ' Ratna said they wanted to know.
Anton and Thevaki Johendran and their two elementary school-age daughters fled Sri Lanka more than two years ago and are stuck in limbo as refugees in Malaysia.
Anton, who worked in construction in Sri Lanka, now works under the table for half-wages at a garage to survive.
"They have to work illegally," said Ratna, who met with the family. As refugees in Malaysia, they're not entitled to work but, if they don't, they have no means of support, he said. Anton keeps getting caught and fined by police, but he has no choice but to work to support his family. Health care is out of their reach — the government doesn't provide medical care for refugees, Ratna said.
"They told me it's the children's future they're worried about," Ratna said. "Their two daughters are not going to school — there is no school… They stay home and their parents try to teach them as best they can."
The Johendrans were at a meeting with Ratna and Matas and 800 other refugees in Malaysia who've no place to go, hoping to hear some good news.
"I told them it's not in my hands," said Ratna, a Winnipeg engineer. " 'It's in the immigration process,' I told them." Ratna and Matas met with hundreds of people struggling in detention. They also met with human rights groups and officials with the United Nations High Commissioner for Refugees.
Matas said if there were no human rights abuses in Sri Lanka, the Tamils could go home.
The Canadian government has addressed the Sri Lankan government's human rights violations and boycotted a Commonwealth summit there next year. Sri Lanka has denied abusing Tamils, who lost the civil war that ended in 2009, but won't allow journalists and non-governmental organizations into Sri Lanka to check it out.
For now, Matas said, the quickest fix to help the refugees stuck in limbo is to get the kids like Sherin and Antolina Johendran into school.
In Malaysia, it's simple because language isn't an issue, said Matas. There are about a million Tamils there and 500 schools where their language is spoken. "But they won't let these people go to these schools," said Matas. He will be presenting his report at a conference in Toronto Feb. 16.
What can be done?
DAVID Matas's report makes many recommendations including:
The government of Sri Lanka should combat discrimination, harassment and persecution inflicted on the Tamil minority.
Commonwealth governments should join Canada in boycotting their 2013 meeting in Sri Lanka until an accountability and reconciliation process is set up.
The government of Indonesia should sign the Refugee Convention and apply in practice its policy of not detaining children and their parents.
Registered asylum-seekers and recognized refugees should be allowed to work in Indonesia and Malaysia. If not, they should be provided accommodation, health care and food allowances.
The government of Australia should commit to resettling the 4,000 refugees from Malaysia it had committed to resettle.
(For updates you can share with your friends, follow TNN on Facebook, Twitter and Google+)