Sri Lanka president urges 'courage' on National Day
President Mahinda Rajapakse marked Sri Lanka's national day by appealing to the country to show "strength and courage" in the face of a worsening global economic crisis.
Rajapakse on Saturday said the problems confronting the world economy were also hitting the resort island nation of 20 million people who are emerging from nearly four decades of ethnic war after crushing Tamil separatists in 2009.
"It is important to be aware of the reality," Rajapakse said in his address to the nation on the 64th anniversary of the country's independence from Britain.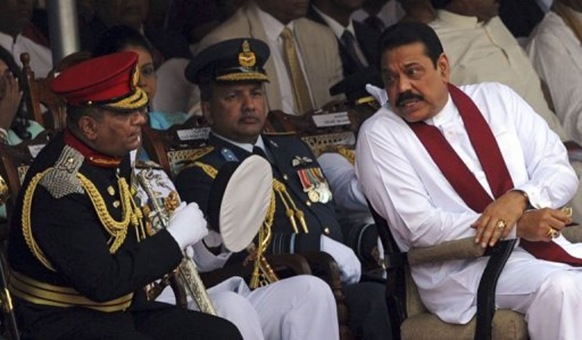 President Mahinda Rajapakse marked Sri Lanka's national day in Anuradhapura, island's capital centuries ago (AFP, Ishara S.Kodikara)
He said rising oil and gas prices were hurting Sri Lanka, which imports all its petroleum requirements, while the global downturn was also affecting demand for the country's exports.
"In the face of all this, we should be prepared to demonstrate our strength and courage to the world," he said in the north-central town of Anuradhapura, a Buddhist pilgrimage site which was the island's capital centuries ago.
The president's remarks came a day after the Central Bank of Sri Lanka raised interest rates for the first time in five years and ordered commercial banks to slow lending in a bid to reduce imports.
"We would be able to exist as an independent, sovereign state only if we strengthen our economy," Rajapakse said "We have to get together and work just as we got together and worked with dedication to defeat terrorism."
Government forces crushed Tamil Tiger rebels in a no-holds-barred offensive that also led to allegations of war crimes. However, since the end of fighting in May 2009, the island has been notching up growth rates of eight percent.
The economic success has led to huge imports and the country's trade deficit touched a record $8.83 billion in the first 11 months of last year, shrinking its foreign currency reserves to $5.9 billion at the end of 2011.
Foreign reserves stood at $8.1 billion in July 2011.
Among measures to discourage imports and encourage exporters, the country devalued its currency by 3.0 percent last November.
Rajapakse watched a military parade and a cultural show in Anuradhapura.
(For updates you can share with your friends, follow TNN on Facebook, Twitter and Google+)