HRC 'to probe' Prageeth disappearance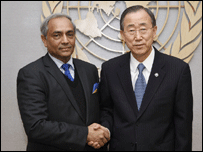 The wife of a missing cartoonist and political analyst in Sri Lanka has expressed hope that an investigation launched by the Human Rights Commission (HRC) would help find him.
The HRC has informed Sandya Ekneligoda, the wife of Prageeth who is missing since 24 January 2009, that an investigation has been launched into her petition made in January and December, last year.
The HRC was told by Mrs Ekneligoda that the former Attorney General (AG) Mohan Peiris has told the United Nations that Mr Ekneligoda has sought refugee in a foreign country.
"In order to facilitate the investigation into the above case the commission has decided to request you to submit an affidavit with regard to this matter," a letter sent by HRC to Mr Peiris stated.
No time limit
There was no time limit, however, given to Mr Peiris to submit the affidavit.
The former AG and currently the legal advisor to the president and the cabinet, Mohan Peiris, has told the UN Committee Against Torture (UNCaT) that his information about Prageeth's whereabouts has originated from a very reliable source.
"I am not saying this with the tongue in my cheek. It is something that we are reasonably certain of. This is information that we have got through the media circles and that this is being played out for various reasons," Mr Peiris told the UNCaT.
His wife, says she is pleased that the HRC decided to launch an investigation into the statement.
"I sincerely hope they will call Mr Peiris to testify though I am not clear how this investigation will be conducted," she told BBC Sinhala service, Sandeshaya.
(For updates you can share with your friends, follow TNN on Facebook, Twitter and Google+)