Lankan mission bruises Lee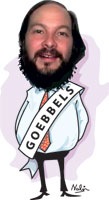 @innercitypress Matthew Russell Lee, an Inner City Press blogger covering the United Nations, is a longstanding critic of the Rajapaksa administration and continues to badger both the Sri Lanka mission and UN spokesman Martin Nesirky firing a volley of questions virtually every day — relating mostly to allegations of war crimes and human rights violations by the government and the country's armed forces.
The initial blast against Lee came from former Deputy Permanent Representative Bandula Jayasekera last May when he wrote a hard-hitting letter to Lee in which he said that "many believe that you are a disgrace to all respected bloggers. What you know best is to insult and discredit people and small third world countries." (read: Sri Lanka)
On Friday, the Sri Lanka mission reacted angrily once again — this time throwing more punches at Lee for his persistent questions relating to the election of Deputy Permanent Representative Shavendra Silva, whom he described as "an alleged war criminal", to the Secretary-General's advisory Panel on Peacekeeping Operations.
In a letter to Lee, the mission said: "We are appalled that you continue to rely on misinterpretations, misrepresentations and unsubstantiated accusations to cast aspersions on a member of the staff of this mission. I wonder if this is your effort to emulate Goebbels – even a lie repeated often enough becomes the truth."
The letter also accuses him of lying. "As for the remarks in your article dated February 8, 2012 regarding Ambassador Silva's lawsuit, it appears that you intentionally or negligently tried to mislead the public by stating a blatant falsehood. For your own edification, the case against Ambassador Silva was dismissed on February 8, 2012 by the District Court of New York."
(For updates you can share with your friends, follow TNN on Facebook, Twitter and Google+)