US to support resolution on Sri Lanka at UNHRC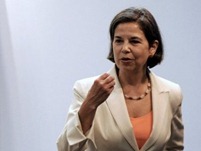 The US government is to support a resolution against Sri Lanka at the UN Human Rights Council (UNHRC) when it convenes later this month.
US Under-Secretary of State for Civilian Security, Democracy, and Human Rights Maria Otero told reporters that the US position was communicated to President Mahinda Rajapaksa when she met the latter in Colombo today.
She said that the resolution will give the Sri Lankan government an opportunity to address some human rights concerns, including those raised over the final stages of the war between the Sri Lankan military and the LTTE.
U.S. Assistant Secretary of State for South and Central Asian Affairs Robert Blake, who accompanied Otero during her Sri Lankan visit, said that the resolution to be presented on Sri Lanka at the UNHRC, and which is expected to have the support of several other countries as well, notes that Sri Lanka has failed to implement most of the recommendations of the LLRC.
(For updates you can share with your friends, follow TNN on Facebook, Twitter and Google+)