Ranil extends hand to Mahinda
Sri Lanka's main opposition pledged its support to solve the national question based on the proposals of a war commission appointed by President Mahinda Rajapaksa.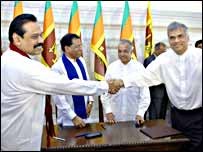 The United National Party (UNP) will back the Lessons Learnt and Reconciliation Commission (LLRC) recommendations despite short comings in the report, says the opposition leader Ranil Wickremasinghe.
"This report has set up a frame work that helps to develop a Sri Lankan solution and the UNP is ready to support to work within this framework to find a solution to the national question" UNP leader Ranil Wickremasinghe told journalists in Colombo on Thursday.
Resolve misunderstandings
"If we work within this framework we can go forward to find a solution to the national question with the blessings of the other parties. UNP is ready to go forward" he added.
According to UNP leader, recommendations of the LLRC report also provide diverse ways to resolve misunderstandings and differences between the government and the Tamil National Alliance.
Consecutive main opposition parties alongside Sinhala nationalists have continuously opposed a negotiated political solution to the national question in Sri Lanka whenever proposed by an elected government.
The LLRC report made public on 16 December 2011 has recommended the devolution of power.
(For updates you can share with your friends, follow TNN on Facebook, Twitter and Google+)