Opposition vows to continue protests
The opposition political parties in Sri Lanka have vowed to continue protests against the increasing cost of living despite the government crackdown on protests.
The joint opposition activists made the vow in front of Fort railway station, as they protested the recent increase of the price of fuel and electricity by the government.
"Having promised a better democracy, one of the best dictatorships in the world has been created. Having promised food, we were forced into begging," said Dr Vickramabahu Karunaratne, the leader of the Nava Sama Samaja Party.
Leaders of the main opposition United National Party (UNP), Tamil National Party (TNA) and Democratic Peoples Front (DPF) were among those led the protest on Friday.
MA Sumanthiran, the TNA parliamentarian said it is important that the opposition and the public rise against the fuel price hike.
The leader of the opposition and the UNP, Ranil Wickramasinghe, urged the government to increase the salaries of the workers and strengthen democracy.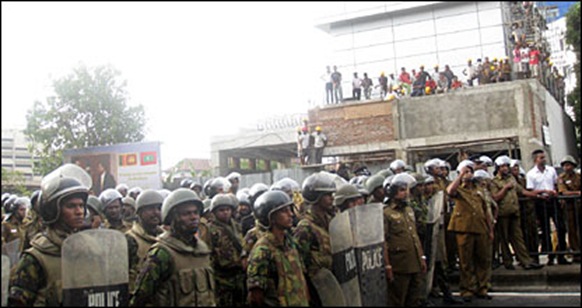 The Fort area looked as a war zone as the security forces blocked the area and attempted to send the protesters away
"We are prepared to fight from north to south, from west to east and in the Up Country to achieve that target," he said.
Authorities were forced to call in the military as the police who attacked the protesters with tear gas had to back off as protesters in turn attacked the police with stones.
Scores of protesters were arrested by the police.
(For updates you can share with your friends, follow TNN on Facebook, Twitter and Google+)