'Unite for reconciliation' Muslims urged
Muslim activists have urged Muslim political leaders to form mutually agreed upon "ways and processes" for reconciliation in post-war Sri Lanka.
The statement issued by nearly 150 religious and civil society leaders also urged the civil society activists of all ethnicities to acknowledge "the suffering of their ethnic others."
In a statement issued on Friday, the group representing religious leaders, farmers, businessmen, fishermen, women, academics, cultural bodies, youth activists and sports bodies, says that Indian Ocean island nation is yet to properly address the challenge of reconciliation.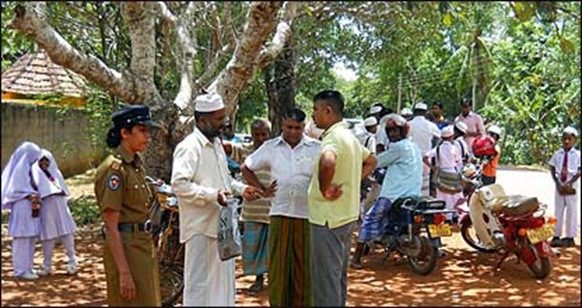 Muslim politicians should move beyond their usual response of complaining about exclusion in political negotiations, says activists
Tamil activists
"Ethnic favouritism of one or another community in development practised during the war continues to be carried out not just by the State but also by international and national humanitarian organisations and by Muslim politicians, thereby reinforcing prejudices," said the statement.
The group says it welcomes a recent statement by 71 Tamil civil society activists in which the Tamil groups criticise the expulsion of Muslims from the north by the Tamil Tigers in 1990.
"This attempt to acknowledge collective responsibility and to forge a new path towards reconciliation could prove to be one of the most significant efforts at promoting Tamil-Muslim coexistence over the last two decades," it added.
However, it is important for the Muslim community to look back at the role it played during Sri Lanka's decades-old conflict and to re-launch new initiatives to reach out to other communities as well as to find solutions to Muslim's burning issues, says the group.
It is therefore essential for the Muslim politicians, says the group, "move beyond their usual response of complaining about exclusion of Muslim representation in political negotiations."
(For updates you can share with your friends, follow TNN on Facebook, Twitter and Google+)