Rajapaksa secretly inaugurated China project in Jaffna
SL President Mahinda Rajapaksa, during his last trip to Jaffna on 06 February, ceremonially declared open a renovated hospital and a swimming pool, both of which were criticised by local media, especially the diversion of funds intended to reconstruct schools in Vanni to the completion of modern swimming pool in Jaffna. However, Mr. Rajapaksa had also inaugurated a China backed controversial project in Maathakal under the eyes of Sri Lanka Navy, without any public knowledge, informed sources in Jaffna now reveal. The controversial project to install windmills and solar panels along the coastal stretch from Thiruvadi-nilai to KKS and lease the occupied land of Eezham Tamil families, deprived of resettlement, to a Malaysian corporate of Chinese connections for 20 years was the one secretly inaugurated by the SL President together with the SLN.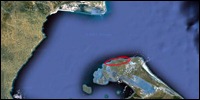 In October 2011, the Malaysian corporate, KLS Energy entered into an agreement with China Machinery and Engineering Corporation to 'develop' wind/solar hybrid power project in Jaffna.
The agreement was part of Malaysian Prime Minister's US$ 10 billion economic cooperation initiative with China.
The Malaysian corporate of Chinese connection will be installing windmills and solar panels to produce electricity and 'sell' it to the people of Jaffna, permanently replacing the coastal people and the proud palmyra palms that now stand there.
As reported earlier by TamilNet, the genocidal Colombo not only seals off Eezham Tamils from Tamil Nadu, but also effectively checks Indian ambitions there with proxy Chinese projects.
Yoshitha Rajapaksa, the son of SL president Mahinda Rajapaksa and an officer in the SL Navy and, is also playing a role in maintaining the colonial interests of Colombo, informed sources further said.
Yoshitha was commissioned as an Acting Sub Lieutenant in the Sri Lanka Navy in March 2009.
During the visit, Mr. Mahinda Rajapaksa, stayed in the newly constructed bungalow of the SL colonial military governor in North, Maj. Gen. (retd) G.A. Chandrasiri, the sources further added.
The bungalow was constructed using more than 190 million rupees from the budget of Northern Province.
(For updates you can share with your friends, follow TNN on Facebook, Twitter and Google+)