CPI (M) to back DMDK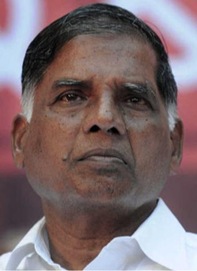 Party asks Centre to press Sri Lanka for early solution to Tamils issue
The Communist Party of India (Marxist) will support the Desiya Murpokku Dravida Kazhagam (DMDK) in the Sankarankoil by-election.
A resolution to this effect was passed at the party's 20th State conference here on Friday. The CPI (M) and the DMDK faced the local body elections together last year.
Speaking on the sidelines of the conference, CPI (M) State secretary G. Ramakrishnan said that DMDK leader Vijayakant had written to the party seeking its support. In the absence of a viable alternative, the party had decided to back the DMDK.
He said while the DMK, by virtue of being a constituent of the UPA, was party to the anti-people policies of the Centre, people were disillusioned with the AIADMK over increase in the price of milk and bus fare and deteriorating law and order situation. The party called upon the Union government to prevail upon Sri Lanka for finding an early political solution to the Tamils' issue. It was three years since the war ended and yet there was no solution in sight.
The Sri Lankan government was deliberately frustrating the efforts of the Tamil parties.
The CPI (M) condemned the selective demographic alteration caused by the settlement of Sinhalese in Tamil areas of Sri Lanka's north and east, and called for withdrawal of military presence from the Tamil areas.
The party alleged that the Sri Lankan government was culpable for war crimes, as it was resisting international scrutiny and ignoring the recommendations of the Lessons Learnt and Reconciliation Commission.
India should ensure that its reconstruction funds were utilised for the welfare of Tamils.
The party also urged Tamil Nadu Government not to issue no-objection certificates (NOC) to private schools for switching to CBSE and ICSE streams to avoid the common syllabus.
"The State Government should also get permission from the Centre to fix the fee for CBSE and ICSE schools," the resolution said.
Contending that crimes against women were increasing, a resolution said that women were being portrayed in a poor light in the media, especially corporate-controlled media.
(For updates you can share with your friends, follow TNN on Facebook, Twitter and Google+)