Mathew Lee explains why he is targeting Lanka
Inner City Press' Matthew Russell Lee, who has continued his relentless attacks on the Rajapaksa administration, has gained notoriety for firing pointed questions relating to war crimes charges against Sri Lanka at virtually every UN media conference without missing a beat. As a result, he has not only incurred the wrath of the Sri Lanka Mission in New York but has also been described as "an LTTE agent" in the payroll of Tiger supporters.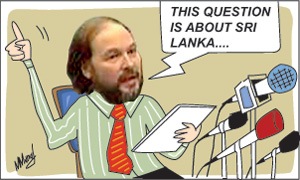 Asked for a response, Lee told the Sunday Times in an email message: "The simple answer is no; to say more, it is a form of paranoia to think that any questions or criticism of policies like shelling hospitals and running internment camps can only come from people funded by enemies."
He said the charges remind him of a newspaper in Israel which said that any critics of civilians being killed in Gaza must be with Hamas. "This form of blindness seems to have led to a lack of self-awareness or a lack of awareness of the fact that appointing Shavendra Silva, after he was named in Ban Ki-moon's Panel of Experts report, to a UN advisory post would stir up controversy."
He said, "I also cover the International Monetary Fund's austerity conditions imposed on Sri Lanka, as on Egypt and Greece, and have been approached by and reported on complaints", for example, that Silva spent $100,000 in Sri Lankan funds on a BMW while Sri Lankans' pensions are being cut or not being paid. I intend to continue to follow these stories".
Asked whether his ruthless campaign against the Rajapaksa regime is part of a journalistic odyssey or prompted by a personal grouse, he said: "I have, as a journalist, covered Sri Lanka, mostly the way the United Nations has dealt with the civilian deaths in 2009. I also cover civilian deaths in places like Sudan and Syria, as well as casualties caused by the United States and other Western countries in Somalia, Afghanistan, Pakistan and elsewhere".
Most recently when Major General Shavendra Silva, whose 58th Division is named in Secretary General Ban Ki-moon's report as allegedly engaged in war crimes like shelling hospitals and killing people seeking to surrender, was put forward by Sri Lanka to join the UN Senior Advisory Group (SAG) on Peacekeeping Operations, this struck me as newsworthy.
This nomination was also criticised by other Asia Group ambassadors, by Human Rights High Commissioner Navi Pillay, and by SAG chair Louise Frechette. It was nominating Silva to the SAG which stirred up the recent news here.
(For updates you can share with your friends, follow TNN on Facebook, Twitter and Google+)