UN, a safe haven for alleged criminals?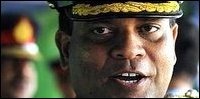 While the treatment of a woman Indian consular officer in the hands of the wayward law enforcement officials who stripped and cavity searched her for an alleged visa fraud has triggered widespread condemnation, the Government of India's swift action to transfer the official to a United Nations post to offer her retroactive diplomatic immunity, has further highlighted that, under the leadership of Secretary General Ban Ki Moon, the United Nations is becoming a safe haven for alleged criminals, political observers in Washington said. Sri Lanka's alleged war criminals, ex-military General Shavendra Silva, under whose command Tamil civilians were massacred, and Palitha Kohona, who has a complaint pending in the International Criminal Court over his complicity the killing of surrendees in the Sri Lanka war, hold UN posts that protect them from prosecution.
PDF: EDNY Court: Khobragade complaint
PDF: Diplomatic versus Consular immunity
A senior Indian official, acknowledged the transfer would not give the consular employee retroactive immunity. However, he said, it would protect her from future charges.
PDF: SDNY Court opinion on Shivendra case
Ex-General Shavendra Silva's case filed in the District Court of New York illustrates that immunity provision is ex-post facto law. Diplomats at U.N., when accepted for the post by the U.N., will enjoy diplomatic immunity even for past crimes.
Inner City Press (ICP) which covers the proceedings within the United Nations in New York, has covered how the U.N. officials have taken and continue to take extra-ordinary measures to provide cover to the alleged war-crimes including, as commander of the 53rd division, given orders that resulted in killings of thousands of Tamil civilians in Mu'l'livaaykkaal at the end of the war in May 2009.
PDF: Filing with ICC Prosecutor Moreno O'Campo
Palitha Kohona, Sri Lanka's ambassador to the United Nations, has been accused of assisting in organising the alleged murders of three surrendering Tamil Tigers in 2009.
In January, two Tamil organisations operating outside Sri Lanka — the Swiss Council of Eelam Tamils and a US group called Tamils Against Genocide — submitted a request to investigate Kohona for the murder of three surrendering Tamil Tigers to the prosecutor of the International Criminal Court. Kohona is said to have been prominent in negotiating the surrender of the victims while serving in the Sri Lankan government, but has denied any involvement in the alleged event.
On Shavendra Silva's appointment to the UN, Professor Boyle, an expert in international law, said, "U.N. Secretary-General has a Charter obligation to determine that the terms of article 101(3) have been satisfied before he appoints someone to the Staff irrespective of any alleged recommendation by the General Assembly," and therefore, "Ban to appoint a presumptive war criminal to his Staff would be ultra vires his powers under the terms of article 101(3) and thus a violation of the Charter itself."
"Interpreting the law to provide a diplomatic 'cloak' of protection to Silva–who is seen as a war hero in Sri Lanka, but as a war criminal by the United Nations Panel of Experts–contravenes the U.S. Congress's intent behind the law," said Ali Beydoun, co-director at SPEAK and director of the UNROW Human Rights Impact Litigation Clinic.
Beydoun added, "The U.S. Congress never intended to immunize war criminals, and international law does not permit such immunity either. Judge Oetken's decision suggests that individuals who deliberately rample upon humanitarian law during armed conflict can later take advantage of the U.N. system. They can serve as diplomats and invoke its rotections to evade accountability in every jurisdiction. This result not only represents an egregious failure of the U.N. human rights system, it should shock the conscience of the international community," Beydoun said.
Another cultural diamension of India's politicians and diplomats was also visible in Ms Khobragade's unfortunate episode. The reaction of high-level decision makers who kept silent was when more horrendous crimes including gang rape were committed by Sri Lanka's security forces on Tamil women, was immediate and harsh: "It is no longer about an individual, it is about our sense of self as a nation and our place in the world," Foreign Minister Salman Khurshid said. Indian national security adviser, Shivshankar Menon, has called such treatment "despicable" and "barbaric."
(For updates you can share with your friends, follow TNN on Facebook, Twitter and Google+)