BIMSTEC having Eelam territory gets secretariat in Dhaka
The Third Summit Meeting of BIMSTEC States held in Myanmar concluded on Tuesday, with its heads of governments deciding on operating a permanent secretariat based in Dhaka in Bangladesh. A career diplomat of Colombo will be its first Secretary General. Originally formed in 1997, as Bangladesh, India, Myanmar, Sri Lanka and Thailand Economic Cooperation (hence BIMST-EC), and was joined by Nepal and Bhutan in 2004 to become known as Bay of Bengal Initiative for Multi-Sectoral Technical and Economic Cooperation, the BIMSTEC is viewed as India's alternative for SAARC, to have a regional alliance without Pakistan. It is also viewed as an expression of India's 'look to East' policy to balance China's 'push to South'.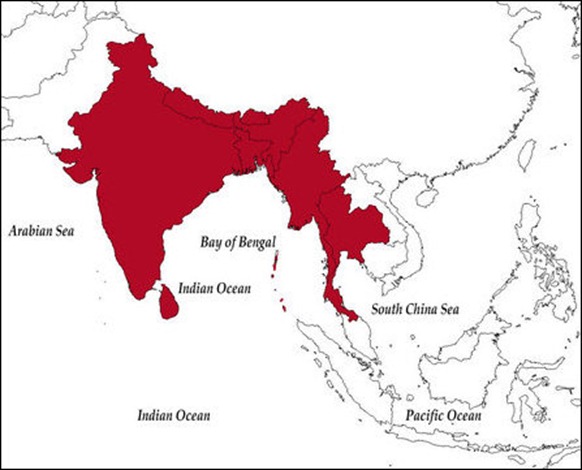 The BIMSTEC region
As was decided in 2005, BIMSTEC's Counter-terrorism and Transnational Crime outfit is handled by New Delhi.
The BIMSTEC Summit Meeting is held once in four years.
The Third Summit held on Tuesday was attended by [in the alphabetical order of the States], Ms Sheikh Hasina, Prime Minister of Bangladesh, Mr. Tshering Tobgay, Prime Minister of Bhutan, Dr. Manmohan Singh, Prime Minister of India, Mr. Thein Sein, President of the Union of Myanmar, Mr. Mahinda Rajapaksa, President of Sri Lanka, and Mr. Sihasak Phuangketkeow, Special Envoy of Thailand.
The summit has endorsed the appointment of Sri Lanka's senior career diplomat Mr Sumith Nakandala as the first Secretary General of BIMSTEC.
Mr. Nakandala, who is currently Colombo's ambassador in Baghdad, was earlier High Commissioner in Kathmandu and Deputy High Commissioner in Chennai. He also served in New Delhi and in Male as Colombo's diplomat.
The Bay of Bengal is differentiated from the Indian Ocean as waters lying north of Paruththith-thu'rai (Point Pedro) in Jaffna. But, the Palk Bay is part of the Bay of Bengal. The boundaries of the Palk Bay on its south stop at the Adam's Bridge reef. The entire shoreline of the Bay of Bengal in the island comes only under the Northern Province, from Thalai-Mannaar to Point Pedro.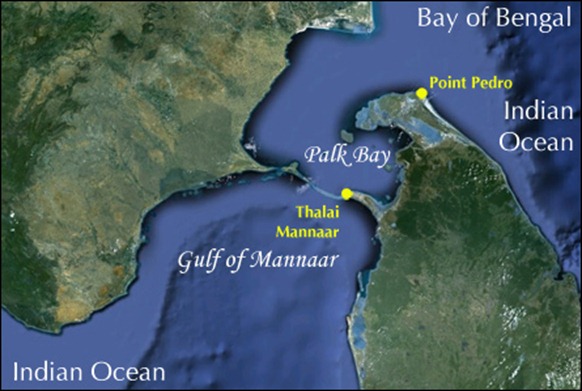 The Bay of Bengal shoreline in the island begins at Thalai-Mannaar and ends at Point Pedro [Satellite Image Courtesy: NASA, Legend by TamilNet]
Therefore, it is exclusively the country of Eezham Tamils and no other part in the island could claim itself a Bay of Bengal country.
The other BIMSTEC States, especially the Establishment in New Delhi, should note that genocidal Sri Lanka comes under BIMSTEC merely because of its genocidal occupation of the country of Eezham Tamils.
Tamil Nadu, the fishermen of which are routinely attacked by Sri Lanka's military occupying the Palk Strait, and that is demanding for the retrieval of Kachchativu in the Palk Strait citing the attacks, should also make a serious note of the unfolding geopolitics and swaps of interests among the Establishments of the present States, political observers in Chennai commented.
Failure of Tamils on either side of the Bay of Bengal to assert to their geopolitics demanded by the present times could result in long-term adverse consequences to their nations without States, the observers in Chennai cautioned.
Ms. Jayalalithaa has already made clear demands on the situation, including the Palk Bay matters, in the Tamil Nadu Assembly as well as in the AIADMK election manifesto.
Mr C.V. Wigneswaran, shedding his contempt for Tamil Nadu polity, should grasp the geopolitics; should work in unison with Tamil Nadu; should monitor what is happening in the territorial and economic waters as well as territory of Eezham Tamils resulting from the international initiatives of States, and irrespective of genocidal Sri Lanka's so-called constitution, should come out with appropriate international responses on what BIMSTEC or other such bodies do to the country of Eezham Tamils occupied by Colombo, commented Tamil activists for alternative politics in Jaffna.
The land-locked States of Nepal and Bhutan received membership of the Bay of Bengal Initiative just because of their use of Kolkata harbour in India for sea outlet.

The 3rd BIMSTEC summit in Myanmar
(For updates you can share with your friends, follow TNN on Facebook, Twitter and Google+)