Sri Lanka Air Force (SLAF) bombers that attacked the hamlet of Internally Displaced Persons bordering Piramanthanaa'ru and Uzhavanoor in the early hours of Saturday have deployed Russian made OFAB-500 cluster bombs in their indiscriminate attack that killed three civilians, including a child, eyewitnesses told TamilNet's Vanni correspondent on Saturday. Seven children were among the wounded. Colombo's use of cluster bomb comes as more than 100 countries are scheduled to meet in Oslo on Wednesday to sign a treaty banning the use of cluster bombs.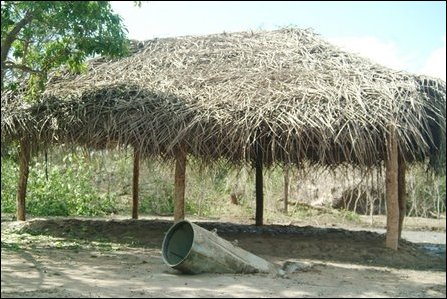 Cluster Bomb used by SLAF on civilian target
The indiscriminate bombardment has destroyed more than 29 shelters of the IDPs within the 'secure zone' announced by Colombo government a few weeks ago.
Cluster bombs release miniature bomblets and are used to spread damage over a wide area.
On 28 May 2008 diplomats from more than 100 countries meeting in Dublin in Ireland agreed on a draft treaty outlawing cluster bombs.
"Diplomats and politicians from around the world are about to deliver the kiss of death to one of the deadliest, indiscriminate non-nuclear weapons on the planet," writes Chris Cobb of Canwest News Service on the treaty banning the use of cluster bombs.
British Prime Minister Gordon Brown has said his government will stop using cluster bombs. However the United States opposed the ban. Israel, India, China and Pakistan did not participate in the meeting in Dublin.
The OFAB-500 bomb is believed to have been cleared for carriage on MiG-21 'Fishbed', MiG-27 'Flogger' and MiG-29 'Fulcrum'.
Cluster Bomb used by SLAF on civilian target
Cluster Bomb used by SLAF on civilian target
TamilNet: 30.11.08 Colombo's cluster bomb attack on civilians in Vanni challenges international norms
(For updates you can share with your friends, follow TNN on Facebook and Twitter )