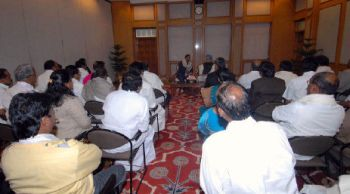 NEW DELHI: Prime Minister Manmohan Singh said India would do everything possible to find a political solution to the Sri Lankan Tamils' issue in view of their sufferings due to the ongoing fight between the armed forces and the Liberation Tigers of Tamil Eelam (LTTE).
He gave this assurance on Tuesday to an all-party delegation of MPs from Tamil Nadu and Puducherry, belonging to both the Houses of Parliament, led by Union Shipping Minister and DMK parliamentary party leader T.R. Baalu. They had called on him here seeking the Centre's "more serious intervention" to bring about a ceasefire in the island nation.
DMK Rajya Sabha member Kanimozhi, who briefed the media, said the Prime Minister expressed his concern over the plight of Tamils in the war-affected areas When the MPs complained that the food, medicines and other relief materials sent by India had not reached the affected Tamils properly, Dr. Singh said he would take up the matter with Colombo, she said. Ms. Kanimozhi replied in the negative when asked whether the delegation wanted a time frame to bring about a ceasefire. She was positive that something would be done by India on the issue immediately going by the feelings expressed by Dr. Singh.
TNCC president K.V. Thankgabalu said the delegation also pressed the need for implementation of the Rajiv-Jayawardane accord in letter and spirit so that a solution could be found for the peaceful existence of Tamils within the framework of an integrated Sri Lanka. Altogether 35 MPs of the 59 (40 in the Lok Sabha and 19 in the Rajya Sabha) from Tamil Nadu and Puducherry joined the delegation. The MPs from the AIADMK, the MDMK (Vaiko group), the CPI and the CPI(M) boycotted the meeting.
(For updates you can share with your friends, follow TNN on Facebook and Twitter )