The government of Sri Lanka and the UN children's fund (Unicef) have reached agreement with a breakaway faction of the Tamil Tigers on child recruitment.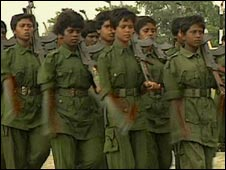 They signed a plan earlier this week to ensure that the recruitment and use of children by the Tamil Makkal Viduthalai Puligal (TMVP) comes to an end.
The TVMP is led by Col Karuna, who defected from the rebels in 2004.
It is now allied in the country's parliament with the governing United People's Freedom Alliance.
'Clear timetable'
Under the terms of the plan, all children currently with the TMVP are to be released and provided with "reintegration assistance".
The ministry of justice says that the plan gives "a clear timetable of required actions by the signatories over the next three months".
The agreement was signed by Col Karuna on behalf of the TVMP, the government-appointed commissioner general for rehabilitation, Suhada Gamalath, and the UN children's fund representative in Sri Lanka, Philippe Duamelle.
"Monday's signing clearly states the commitment of the three parties to efficiently tackle the issue of the use and recruitment of children, which is against Sri Lankan and international law and does great physical and psychological damage to them," said Mr Gamalath.
The government says that it regards the recruitment and use of children in armed conflict as "a serious child rights' violation" and has consistently asserted its "zero tolerance" position on the practice.
"This agreement… is a very important step in putting an end to the recruitment and use of children by the TMVP," said Mr Duamelle.
"The action plan must now be translated into concrete actions on the ground which will then lead to significant results for children in the very near future."
The Tamil Tigers have frequently been accused in recent years of using child soldiers.
Col Karuna was a senior rebel commander in eastern Sri Lanka, effectively number two in the Tamil Tiger military organisation.
(For updates you can share with your friends, follow TNN on Facebook and Twitter )