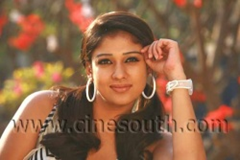 Looks like this will soon become a kind of confrontation. Discussions are on to replace Nayanatara with Trisha in 'Paiya.'
Lingusamy produces and directs 'Paiya.' Nayantara was fixed for a fee of Rs. one crore to pair with Karthi. Lingusamy requested her to reduce her few by a few lakhs, but she refused, so he has started to scout for another heroine. A few days back, Nayantara complained that her call sheet had been wasted by the producer.
Lingusamy explains: "Recently production costs have gone up. But business has decreased by half. So the Producers Association has asked producers to cut down on costs. So we asked Nayantara to reduce her fees. Karthi has still not been released from 'Ayirathil Oruvan.' Only if Karthi is available, will Nayantara have work. So we asked Nayantara to change her call sheet dates to suit Karthi's availability. She has no other films now, so it is not our fault. Instead of Nayantara, we are looking for another heroine." He mentioned that talks were on with Trisha.
(For updates you can share with your friends, follow TNN on Facebook and Twitter )