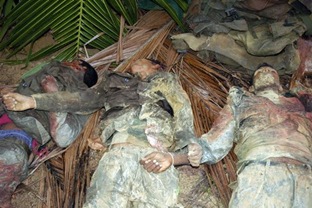 The Liberation Tigers of Tamileelam (LTTE) on Tuesday repulsed a major push by the Sri Lanka Army, killing at least 100 SLA soldiers and causing injuries to more than 250, said S. Puleedevan, the director of LTTE's Peace Secretariat, quoting Tiger commanders who were in charge of the Tiger defensive fronts in Ki'linochchi district. "According to the emerging details, a multi-front push towards Ki'linochchi from Malayaa'lapuram, Kugnchupparanthan, Mu'rika'ndi and Pulikku'lam, was repulsed by the LTTE defensive formations that have seized weapons and recovered at least 10 corpses of the Sri Lanka Army," Mr. Puleedevan told TamilNet citing the military officials of the LTTE.

"This is the third debacle of the SLA in Ki'linochchi district within the past few weeks," Puleedvan added.
Heavy fighting raged from 5:00 a.m. till the evening when the move was thwarted.
Two AK-LMGs, one PK-LMG and six T-56 assault rifles were among the weapons seized by the Tigers so far in the clearing mission which was going on, he said.

The Tigers were making arrangements to hand over the 18 dead bodies, 10 from Ki'linochchi and 8 from Ki'laali, through the ICRC, Puleedevan said.
(For updates you can share with your friends, follow TNN on Facebook and Twitter )