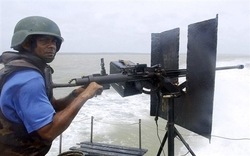 Sri Lanka's navy has destroyed a Tamil Tiger vessel carrying arms and other supplies off the island's northeastern coast, according to the defence ministry.
Navy patrol craft "completely destroyed" the vessel of the Liberation Tigers of Tamil Eelam (LTTE) off the coast of Mullaittivu in a pre-dawn assault, the ministry said in a statement.
It said four more rebel craft in the area supporting the arms ship were also attacked by navy patrol craft.
"The enemy logistics vessel was completely destroyed," the statement said. "It is believed that the enemy vessel was carrying a large quantity of warlike materials to the LTTE since it sank engulfed in a ball of fire under the heavy naval fire."
There was no immediate comment from the Tigers.
The Sri Lankan navy had earlier said it had sunk virtually the entire fleet of arms-carrying ships of the Tiger guerrillas, who were known to operate a lucrative shipping business through front organisations.
The latest naval clash came as government ground troops tried to capture the LTTE political capital of Kilinochchi in the north of the island.
The LTTE said this week it repelled a multi-pronged offensive by government forces, killing 170 soldiers and wounding 420 others on Tuesday and Wednesday.
The military rejected rebel claims and said they lost only 25 soldiers, and placed rebel losses at 120 killed and 250 wounded.
President Mahinda Rajapaksa's government has been predicting the imminent fall of Kilinochchi for months, and the military recently said it was within "kissing distance" of the town.
(For updates you can share with your friends, follow TNN on Facebook and Twitter )