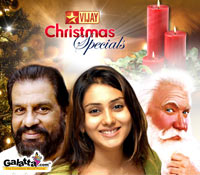 Christmas celebrations always include various traditions such as the arrival of Santa Claus, display of nativity scenes, Christmas trees and exchange of gifts and cards.
Vijay TV has come up with an exciting line-up of programmes for this Christmas on December 24 & December 25, 2008.
On Christmas Eve (December 24, 2008) at 5p.m. is 'Jingle Bells'. Celebrities like actor Livingstone, music director James Vasanth, VGP Ravidas, director Issac, pianist Stephen Devasai, magician Dr. Alexander, actress Sharmila share their experiences of celebrating the festival with their kith & kin. Join them as they speak about how special Christmas is for them and their celebrations planned for the festival.
At 6 p.m. is Chinna Chinna Aasai. Namitha, the gorgeous glam doll of Kollywood, plays Angel for the day. Three lucky winners of an SMS contest will get a once-in-a-lifetime opportunity to make one of their wishes come true and meet Namitha in person.
Christmas Day (December 25, 2008) begins with Christmas Nalvazhthukal at 8 a.m. Celebrate the joy of Christmas with carols by a primary school choir; spiritual messages will be rendered by Sam Chelliadurai, Mohan C. Lazarus, Father John Andrews and many others.
At 10 a.m. comes Idhayam Mantra Koffee with Anu Season 2. Legendary singer K.J. Yesudas and family are the special guests on this special day. K.J. Yesudas, his wife, son and daughter-in-law participate in a lively chat with Anu Haasan. The father-son duo chats about their bonding, understanding, passion for music, and singing. The family also talks about the love story between K.J. Yesudas and his wife Prabha, and the recently married Vijay Yesudas and his wife Darshana. Do not miss this Christmas special on Vijay TV.
At 11 a.m. is the hilarious and heart warming movie The Santa Claus premiering for the first time on Tamil TV. An ordinary human being, Tim, finds that he is the real Santa Clause and has to save the Christmas spirit. Do not miss watching this feel-good movie that warms up the spirit of Christmas.
(For updates you can share with your friends, follow TNN on Facebook and Twitter )