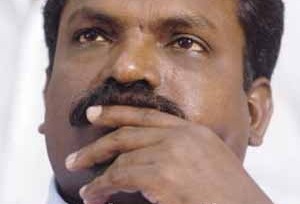 A conference organised by the pro-LTTE Viduthalai Chiruthaikal Katchi (VCK) today demanded that India and other governments in the world recognise the struggle of Tamils in Sri Lanka for a separate state.
In a resolution passed at the 'Tamil Eelam Recognition Conference' organised by the VCK, the party said India should recognise the 'Tamil Eelam' struggle, and there was no need for any further talks or agreements to be signed.
"For 50 years, the Tamil people launched a peaceful struggle for their rights, but their voice was ignored by the Sinhala state.
After the struggle was brutally suppressed, the Tamils were forced to take up arms," the resolution, read out by VCK leader Thol Thirumavalavan said.
The resolution avoided any direct reference to the Liberation Tigers of Tamil Eelam (LTTE), which is banned in India, apparently with a view to avoid any embarrassment to the DMK government. The VCK is a close ally of the ruling DMK.
The resolution traced the history of the 'Tamil struggle' and blamed the erstwhile British rulers for "betraying the Tamils" by handing over the country to the majority Sinhalese without any concern for the rights and aspirations of the Tamils.
The resolution made a reference to the Vaddukottai resolution passed by Tamils of Sri Lanka in 1976 declaring a separate state. The resolution was the brainchild of the Sri Lankan Tamil leader, late S J V Chelvanayakam, who signed agreements with Sri Lankan leaders SWRD Bandaranaike in 1957 and Dudley Senanayake in 1965. These agreements were jettisoned by the Sri Lankan government, just as the Indo-Sri Lankan Accord was scuttled and the 2002 ceasefire agreement was abrogated, it said.
(For updates you can share with your friends, follow TNN on Facebook and Twitter )