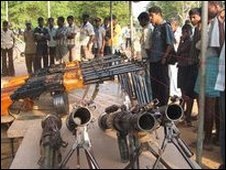 Tamil Tiger rebels have handed over the bodies of 17 Sri Lankan army soldiers to the International Committee of the Red Cross (ICRC).
The ICRC acts as an intermediary and facilitates the exchange of bodies between the two sides.
The hand-over came as both sides say they have inflicted heavy casualties on each other in the north of the island.
The rebels say they are successfully defending the strategically important town of Kilinochchi.
But the army say that the town is on the verge of falling.
There have been no independent reports of the latest fighting from the frontlines and it is impossible to verify either account of casualties.
A Red Cross spokeswoman declined to give any details as to when or where the 17 soldiers might have been killed.
The pro-rebel TamilNet website says that some of the Sri Lankan soldiers killed in recent fighting were under-aged. It has published pictures to support its case, which also show captured arms and munitions.
The military, meanwhile, says that it has carried out airstrikes around Kilinochchi.
The defence ministry has accused the rebels of abducting 16 children from a Roman Catholic orphanage in the town on Friday.
It described the abduction as a "nefarious act of terrorism" and an "ideal example of the inhumanity of the terrorist outfit".
(For updates you can share with your friends, follow TNN on Facebook and Twitter )