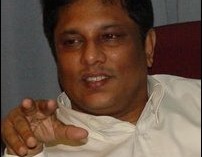 Gunmen on a motorcycle shot and badly wounded the editor of a newspaper strongly critical of the government Thursday, the second violent attack on private media in Sri Lanka in three days, police said.
Media rights groups have accused the government and its supporters of trying to stifle dissent in the war-wracked country by vilifying journalists seen as critical of the government and creating an atmosphere of impunity for people to carry out attacks on them.
One of the most critical voices belongs to Lasantha Wickramatunga, whose Sunday Leader newspaper has consistently accused the government of President Mahinda Rajapaksa of corruption and mismanagement. Defense Secretary Gotabhaya Rajapaksa, the president's powerful brother, is suing the newspaper for defamation.
As Wickramatunga drove to work during Thursday's morning rush hour in a suburb of the capital, Colombo, two gunmen rode up and opened fire on his car, police spokesman Ranjith Gunasekara said. Police were investigating the attack, but no one has been arrested.
Bullet holes riddled the windshield, the side windows were shattered and blood was splattered over the seat, television images of the scene showed.
He is being treated for head injuries, said Dr. Anil Jasinghe, director of Kalubowila Hospital. "His condition is very critical."
Dilrukshi Handunetti, a colleague of Wickramatunga, said he had received threats recently. The newspaper has been attacked before; in November 2007, a group of men torched its printing presses.
The shooting came two days after more than a dozen gunmen armed with assault rifles and grenades raided a private television station belonging to the Maharaja group and destroyed much of its equipment. No one was seriously injured in that late night attack.
That attack came after state media accused the group's television and radio stations of not being "patriotic" enough in their coverage of the government's recent victories over ethnic Tamil separatists.
Media watchdog groups say intimidation of journalists has grown as the civil war between government forces and Tamil Tiger rebels escalated over the past two years.
(For updates you can share with your friends, follow TNN on Facebook and Twitter )