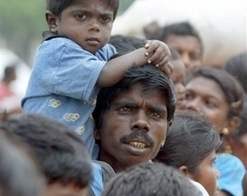 Sri Lanka Army (SLA) has been engaged in vacating civilians from the coastal villages earlier held by Liberation Tigers of Tamil Eelam (LTTE) in Vadamaraadchi East, to Kodikaamam in Thenmaraadchi and brought around 300 civilians in vehicles along the A9 road Wednesday making a total of 985 civilians along with those brought in during the last four days, according to Divisional Secretariat sources in Chaavakachcheari. Meanwhile, there have also been alleged reports of disappearances in the custody of the SLA. The latest move, to keep the civilians within military High Security Zone in Mirusuvil, has set off fears of military 'detention centres' like the ones reported in Mannaar and Vavuniyaa in recent times.
The civilians vacated from their villages are presently lodged in Kodiakaamam Thirunaavukkarasu Viththiyaalayam and other public buildings close to it.
Chaavakachcheari Divisional Secretary has arranged for cooked meals to be supplied to the refugees, directed by Jaffna Government Agent (GA).
The officials have been instructed by the military establishment to use the Mirusuvil Church and its premises to house the civilians being transported by the SLA in buses through A9 road to Mirusuvil.
Only the Divisional Secretariat officials have been allowed to enter the emerging 'detention centre' in Sri Lankan military High Security Zone.
Meanwhile, there have been reports of SLA filtering civilians, whom it either captured or arrested while fleeing from Vadamaraadchi East. After thorough scrutiny, some have been detained by the military and the remaining persons were handed over to the Police. Only a few of them who were detained were reportedly sent to the military detention centre at Thellippazhai. There have also been reports of around 200 persons who set out in boats towards Mullaiththeevu from Vadamaraadchi East, were arrested by the Sri Lanka Navy. But, their fate is not known.
(For updates you can share with your friends, follow TNN on Facebook and Twitter )