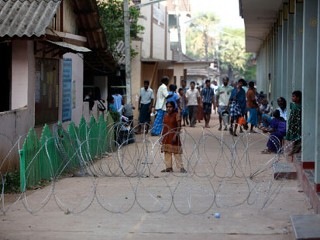 Thousands of Sri Lankans crammed into a squalid coastal strip along with retreating Tamil rebels face relentless shelling that has killed dozens of civilians in the past two days and left many scrounging for food to survive, witnesses said Thursday.
Concern is growing for the trapped civilians as the Sri Lankan army seeks to deal a knockout blow to the Tamil Tiger rebels to end the island's 25-year civil war.
The army, whose recent offensive has dismantled a de facto independent state carved out for Sri Lanka's ethnic minority Tamils, claims emergency supplies regularly reach the last rebel-held pocket in the northeast.
But international aid agencies warn that stocks of food and medicines are so low that the area risks a humanitarian catastrophe.
"It's been four days since my family has eaten," said Mary Jacinta Balachandran, 46, as she waited at the rebel pocket's only makeshift clinic.
She said her brother-in-law needed an urgent operation on a stomach wound inflicted by shelling early Thursday.
"But the doctors can't take him for surgery because they don't have the right drugs," she said by telephone.
Health officials and witnesses have accused the government of killing civilians in artillery attacks, and the rebels of holding the local population hostage for use as a human shield. Both sides deny the allegations.
Aid groups estimate 200,000 civilians might be trapped in the rebel pocket, a 19-square mile (50-square kilometer) strip of beach, lagoons and jungle with a few small villages.
The government says the number is closer to 70,000. But it has barred independent reporters from the area, making it impossible to verify accounts of the civilians' plight or the fighting raging around them.
International aid groups are calling on the government and the rebels to work together to let the civilians flee and to allow aid into the area.
U.N. High Commissioner for Human Rights Navi Pillay urged both sides Thursday to "ensure safe passage and refuge for those affected."
However, the government has resisted calls for a cease-fire, saying the war is nearly over, while the Tamil Tigers on Thursday denied they were preventing civilians from leaving.
In an interview with Australia's Special Broadcasting Service radio, a rebel leader who identified himself as Thileepan claimed the civilians wanted to stay, despite the appalling conditions.
"These people belong to this land, so why would they need to leave these areas?" Thileepan said, according to a transcript. "Mass evacuation is not required at all."
He said the rebels would keep up their resistance and that their elusive leader, Velupillai Prabhakaran, was still in the war zone. "We will not surrender at all. We will fight and we will get our freedom, for sure."
The New York-based group Human Rights Watch has estimated that some 2,000 civilians died in the recent fighting and the toll appears to be mounting.
The top government health official in the rebel pocket, Dr. Thurairaja Varatharajah, said shells were falling "day and night" both inside and outside a government-declared safe zone in rebel territory that the military promised not to attack.
The bombardment killed 60 civilians Wednesday and injured 159 others, Varatharajah said by phone. On Thursday, eight bodies were brought to the hospital and six more patients died of their wounds, he said.
The International Committee of the Red Cross said a local staffer died at the makeshift hospital after suffering shrapnel wounds Wednesday. His 9-year-old son was also wounded.
The aid agency provided few details, but said Vadivel Vijayakumar had been helping bring patients from the clinic to a Red Cross ship for evacuation.
Military spokesman Brig. Udaya Nanayakkara denied the army, which is fighting to take control of the last rebel-held town, was responsible for the attacks.
"We don't even use shells now. It's all house-to-house fighting, street-to-street," he said.
The army said later that Tamil Tiger fighters attacked troops near a lake in the area before dawn Thursday and that troops later found the bodies of 33 rebels. It gave no indication of military casualties.
Varatharajah said the civilian population had no clean water supply or sanitation facilities and is facing outbreaks of diarrhea, chicken pox and hepatitis.
A shortage of food meant that some have begun eating inedible leaves from trees and that 13 people — most of them elderly — died from starvation in the past week, he said.
Balachandran, waiting at the clinic, said her uncle was among them and that her husband died in shelling in January.
(For updates you can share with your friends, follow TNN on Facebook and Twitter )