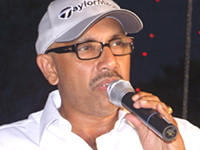 Actor Sathyaraj says he is going to take only dignified character roles of his age, instead of prancing about tress like a young hero. So, he has agreed to play another offbeat role in director Thankar Bachchan's next film, 'Tholaindhu Ponavargal' for which the script is ready and will start this project after completing his 'Kalavadiya Pozhudhugal'.
But that's not all. The actor has donned the role of 'Periyar' once again. This time, it is for a song in Thankar's current project, 'Kalavadiya Pozhudhugal'. This film stars Prabhu Deva as a hero and has one song in which 'Periyar' is said to be revisiting the state again. For this, Thankar had approached Sathyaraj, who readily agreed to it.
"I feel so happy in fact to act as Periyar again and I have also asked Thangar a favor for which he never paid heed (Laughs). I have a long term dream to get into the role of Karl Marx I hope that my dream will come true one day" He adds.The actor tonsured his head to play Periyar just for that song, which has been penned by Vairamuthu. Sathyaraj says he would like to give way for youngsters to play heroes and will take up roles like Sivaji's in 'Devar Magan' or Amitabh in Sarkar.
(For updates you can share with your friends, follow TNN on Facebook and Twitter )