31,148 eligible Eezham Tamil diaspora voters over 18 in France participated this weekend in the referendum to say yes or no to independent and sovereign Tamil Eelam and 30,936 of them have said yes. The postal votes permitted to interior areas of France are yet to be counted and the number is expected to be between 2,000 and 3,000. In the absence of any official statistics, police estimates earlier placed the number of adult Eezham Tamils in France between 25,000 and 35,000. The near total turn out of voters amidst international campaign that Tamil Eelam is drowned in Mu'l'livaaykkal has stunned the observers. The public spirit has made sections of Tamil media, initially engaged in vicious campaign against the referendum, to make a U-turn supporting it later.
One of the poll observers, Stephen Gatignon, Mayor of the City of Sevran in whose area around 1800 voters turned out, welcomed all democratic moves of Eezham Tamils.
In Paris, the booths in the area called '93 Department' alone polled around 12,000 votes. This is a locality where many Eezham Tamils live. "Voters flocked in as families and we watched it with awe," said one of the French election officials.
Voters came with identities to prove their Eezham Tamil origin and since the voting took place for two days, date of birth and place of birth details were entered in a centralised database to prevent duplication. Indelible ink that can stay for 48 hours was also applied.
Enthusiastic voters from neighbouring countries also tried to participate in the polling, but they were all turned back by the election officials as the poll was exclusive to Eezham Tamils of residential status in France.
The poll was officiated and supervised by independent French election officials drawn from the members of local government bodies.
Results of two centres, far away from Paris and the postal votes, are awaited Monday noon.
Of the available accounts, 99.32 per cent said 'yes' to the following statement based on the main political principle of the Vaddukkoaddai Resolution of 1976 that was mandated by Tamils in the North and East of the island of Sri Lanka in 1977:
"I aspire for the formation of the independent and sovereign state of Tamil Eelam in the north and east territory of the island of Sri Lanka on the basis that the Tamils in the island of Sri Lanka make a distinct nation, have a traditional homeland and have the right to self-determination."
Only 43 voters said 'no' and 169 votes were invalid.
The grand success of the referendum was due to enthusiastic participation of all generations of Eezham Tamils, said the organisers. Senior citizens and youngsters were in the forefront in organisation. Braving harsh weather, many senior citizens took a special interest in distributing pamphlets and in door-to-door campaign, Mr. Thiruchothy, one of the organisers, told TamilNet.
The referendum was organised by the formation committee of the country council of Eezham Tamils called "The House of Tamil Eelam," supported by 61 Eezham Tamil organisations in France and two NGOs, Mouvement de la Paix (Movement for Peace) and Mouvement contre le racisme et pour l'amitié entre les peuples (Movement Against Racism and for Friendship between Peoples).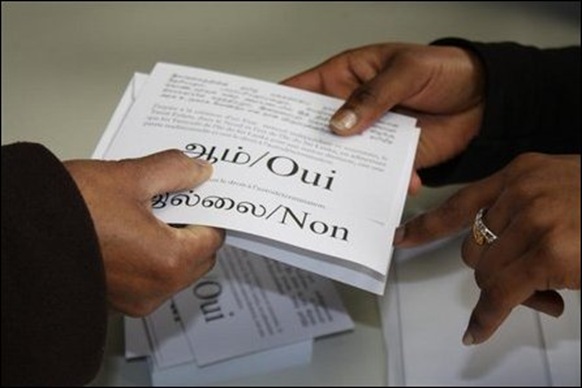 Following the French system of referendum, there were different slips to say 'yes' and 'no'.

 
An Eezham Tamil senior citizen blesses after casting her vote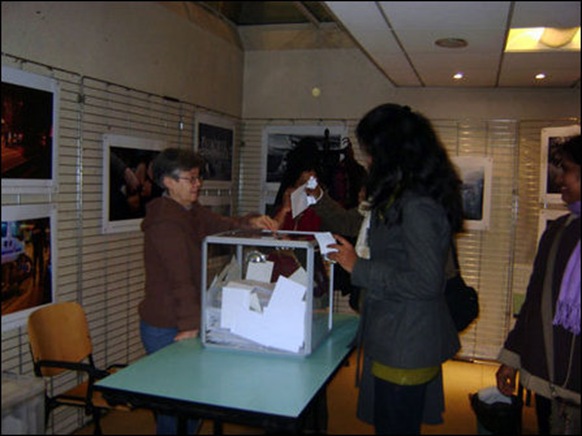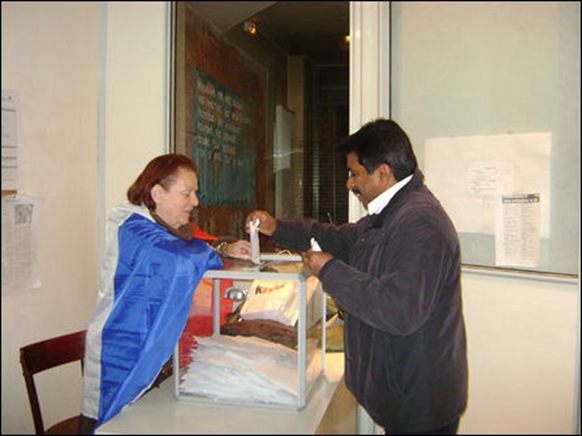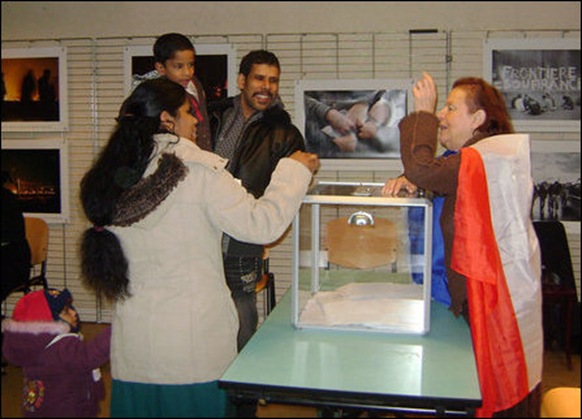 Voters came in families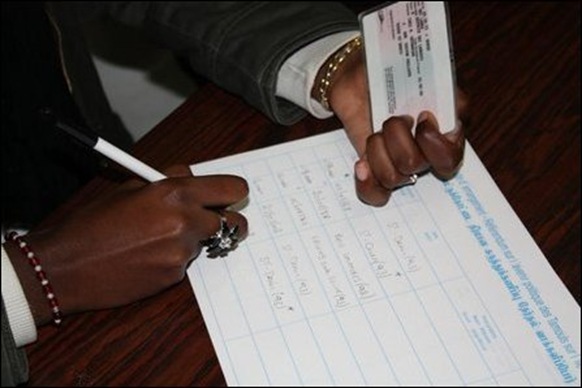 Identity check and entry of particulars for centralised database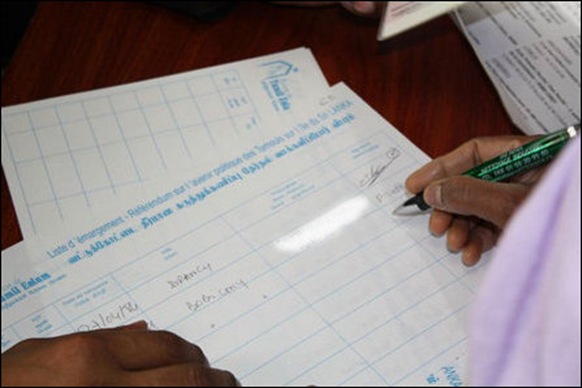 Voters signature. Entry of name was optional. Indelible ink alone is enough and such entries should be avoided for better security and independence of the voters by conducting polls within a single day, said one of the organisers of a similar referendum in another country.
 
Application of indelible ink to prevent duplication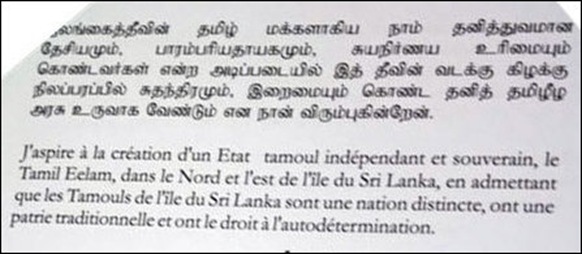 The text in Tamil and French printed on the ballot paper to say 'yes' or 'no'. Better care could have been taken on the Tamil sentence structure, commented a language enthusiast.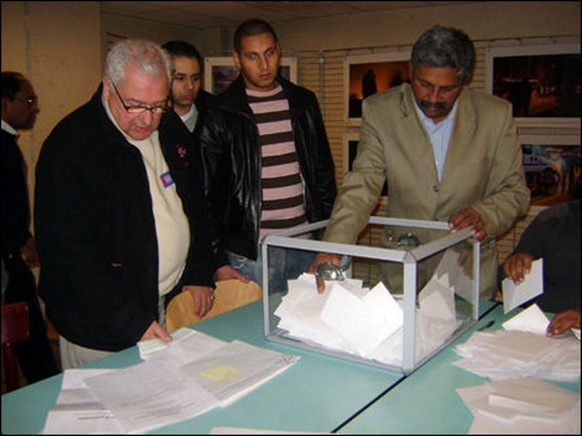 Mr. Thiruchothy, one of the organisers of the poll at a polling station with election officials before the counting starts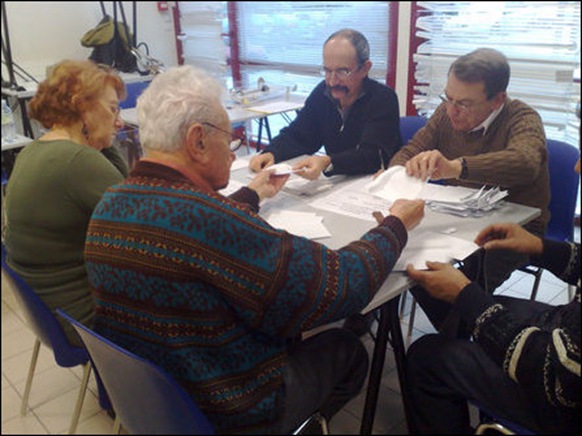 Counting at a polling station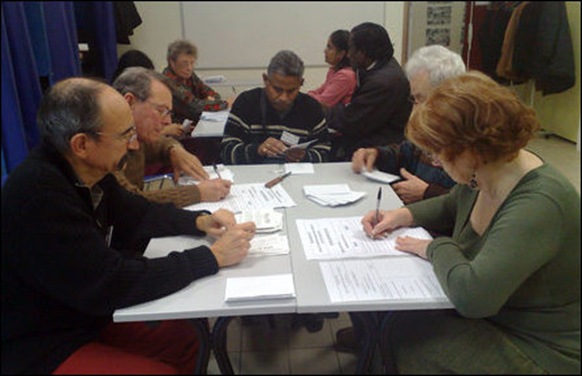 (For updates you can share with your friends, follow TNN on Facebook and Twitter )