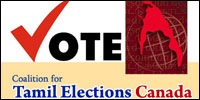 Eezham Tamils in Canada will vote on the question of independent and sovereign Tamil Eelam at 31 polling centres using 52 voting machines across the country this Saturday between 9:00 a.m. and 9:00 p.m., said Coalition for Tamil Elections Canada, an independent body organizing the referendum. It is a historic opportunity never to be missed by the large number of Eezham Tamils in Canada, said Siva Vimalachandran, spokesperson for the coalition and chairperson for the York University Student Centre INC. "Casting aside all differences and biases they should make this democratic exercise a success, not only to uphold the basic premises of liberation of their nation in the island, but also to assert to their own diaspora identity and to be free from the shackles of Sri Lankan identity oppressors attempt to forcefully impose onto them globally," he further said.
Considering safety and confidentiality of the voters, the ballot taking will be completely secret and voter registration is not obligatory, the organizers said.
A Canadian third party will be conducting the poll with independent officials.
Machine-readable ballot papers will be provided to the voters and indelible ink will be applied to prevent duplication.
The Student movement, Labour movement, representatives of political parties and various other representatives will be monitoring the referendum, Mr. Siva Vimalachandran told TamilNet.
Voters are requested to bring in one of the stipulated identification documents to prove their Eezham Tamil origin or descent.
Canadian or Sri Lankan Passport, Canadian Permanent Resident card, documents of refugee status, driving licence, health card, birth certificates of Canada, Sri Lanka or any other country and Sri Lankan Identity Card are some of the documents listed as acceptable for identification.
All Eezham Tamils, currently residing in Canada and are aged 18 or above (born in 1991 or before) are permitted to vote.
The following is the text for the referendum:
"I aspire for the formation of the independent and sovereign state of Tamil Eelam in the north and east territory of the island of Sri Lanka on the basis that the Tamils in the island of Sri Lanka make a distinct nation, have a traditional homeland and have the right to self-determination."
Voting will take place in the following centres between 9:00 a.m. and 9:00 p.m. Saturday: 20 centres in Toronto and centres in Montreal, Ottawa, Vancouver, Calgary, Edmonton, Waterloo, Winnipeg, Cornwall and Halifax.
No comprehensive official statistics are available for the number of Eezham Tamil adults in Canada. Conservative estimates have placed the total number of all ages to 150,000. Toronto Star placed the number of participants in the biggest ever rally of Eezham Tamils in March at 120,000.
At least around 100, 000 eligible Eezham Tamil voters are expected to be residing in Canada.
TamilNet: 16.12.09 Yes or no to Tamil Eelam, referendum in Canada on Saturday
(For updates you can share with your friends, follow TNN on Facebook and Twitter )