ACT NOW JOINS HUMAN RIGHTS GROUPS ACROSS THE GLOBE IN LAUNCHING AN INTERNATIONAL BOYCOTT CAMPAIGN AGAINST SRI LANKAN PRODUCTS AND TOURISM
UK based Human rights Group Act Now joined forces at the weekend with other organisations around the globe to launch an international  boycott  against the Sri Lankan textile and tourism industries. The tourism and textile industries have helped fund a Government which has carried out  indiscriminate attacks on civilian areas in a civil war which killed over 20,000 innocent civilians this year alone and created a further 20,000 amputees. The money from such industries continues to fund a government with an appalling human rights record that still illegally detains over 200,000 innocent civilians in camps.
Act Now Director Tim Martin, was quoted in the Times yesterday as  condemning Ben Bradshaw, UK Secretary of State for Culture, Media and Sport, for taking his Christmas holiday in Sri Lanka just days after the British government condemned the Colombo administration for its poor human rights record (http://www.timesonline.co.uk/tol/news/politics/article6963667.ece#cid=OTC-RSS&attr=797084).
Act Now campaigners in the UK targeted high street stores in twelve locations encompassing eight cities and four different sites throughout London. Last weekend they were also joined by an organisation called NO To Sri Lanka from America where protesters in eight major US cities picketed outside GAP and Victoria's Secret whilst other organisations protested in cities across Europe, Asia, India and Canada.
In the UK, fliers were handed out to Christmas shoppers asking them to to boycott stores selling Sri Lankan products and to send an online appeal via the Act Now website to the stores requesting that they cease trading with this country(http://www.act-now.info/Site/Online_boycott.html)
The organisers of the pickets hope that consumers will be able to play a big role in stopping human rights abuses against Tamils. Protesters are urging companies to begin moving their production of clothing to other countries that do not commit such serious human rights abuses.
The US boycott organisers have targeted GAP and Victoria's Secret stores as part of a larger boycott campaign against products made in Sri Lanka. In the UK organisers Act Now have been targeting a wide range of stores including M&S, Top Shop, Next, Hugo Boss, Calvin Klein, GAP, Primark, Nike, Tommy Hilfiger, Polo Ralph Lauren, the UK's Bhs, Adams and Debenhams.Though these Corporations market themselves as socially responsible brands, a large number of their clothing items originate in Sri Lanka, thus helping the Sri Lankan government fund its military campaign.
The Sri Lankan Government (GoSL) has been making repeated promises about the release of all the civilians, yet it has not done so despite pleas from humanitarian agencies; the United Nations, and the US State Department. While western nations call for an investigation of war crimes, GoSL continues to deny independent investigators and have restricted access to journalists to the former war-torn areas.The camps have been condemned by the International Community and reports from human rights groups of rape, torture, extra-judicial killing, atrocious conditions, forced recruitment by government paramilitaries have continued to flow from the camps since they were opened.
Sri Lanka is a highly militarised state that is sustained by GoSL's dependence on the garment industry, Sri Lanka's largest source of foreign exchange. Over 25% of Sri Lanka's exports reach the US, mainly as garments, while another 33% of the exports enter European markets. While holding innocent Tamil civilians in internment camps yet claiming insufficient funds to provide necessary food and shelter, GoSL continues to recruit troops and build up its army to occupy the traditional Tamil homeland in the North-East of the Island.
The European Union has already indicated that Sri Lanka will likely lose its trade preferences for garments (GSP+) due to Sri Lanka's human rights violations. The decision to renew or withdraw this concession to Sri Lanka will be voted on by EU member states within two months. If withdrawn it will make SL goods far less competitive and threaten the loss of up to £8.2b worth of product(s).
Act Now Director Tim Martin said "It looks as if Sri Lanka will, deservedly, lose the benefit of an EU subsidy worth over $100m within a few months. We have campaigned hard for that to be withdrawn. We shall now redouble our boycotting efforts by expanding to other parts of the UK and countries all over the Developed world. Until Sri Lanka respects human rights and negotiates a peaceful settlement with its Tamil community we will keep up the pressure!".
Fellow Director Graham Williamson said "We will be urging all Tamils and human rights campaigners to get on board our Boycott Sri Lanka campaign. As Indonesia found with East Timor, if Sri Lanka wants to keep on spending massive amounts of money on arms whilst oppressing innocent civilians they can't expect any help from the West! We urge Sri Lanka to take heed of the pending loss of the GSP+ and negotiate a settlement with Tamil representatives."
ENDS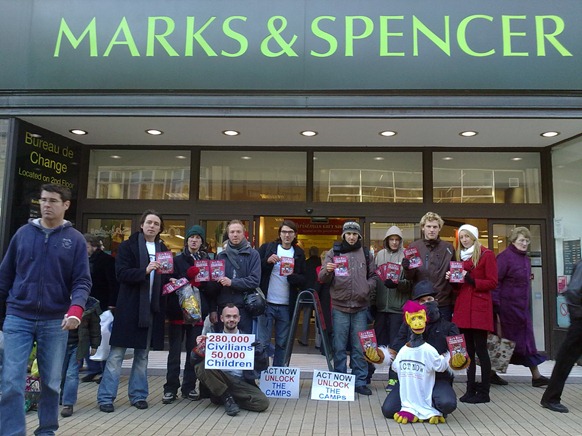 Tim Martin (Director Act Now) and Bristol campaigners.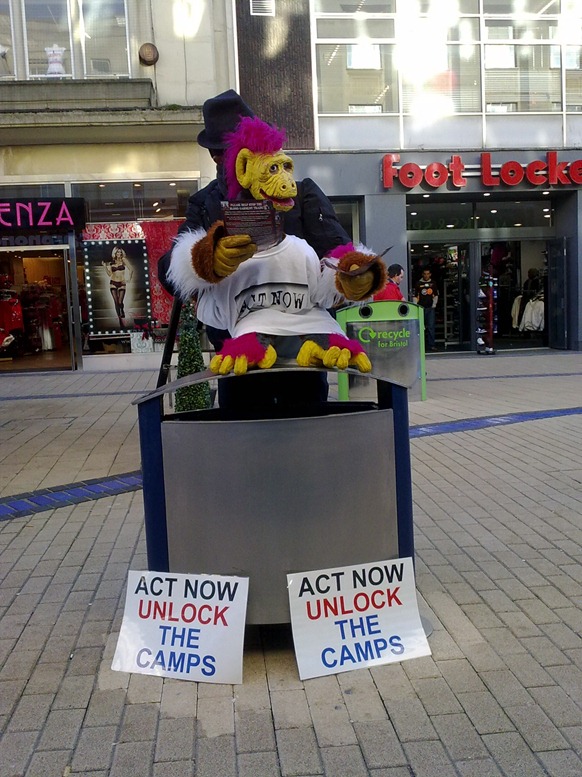 Act Now Monkey Bristol.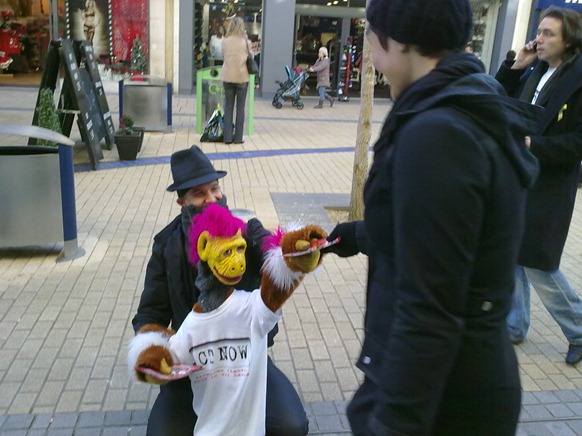 Act Now Monkey Bristol.
Act Now Exeter campaigners.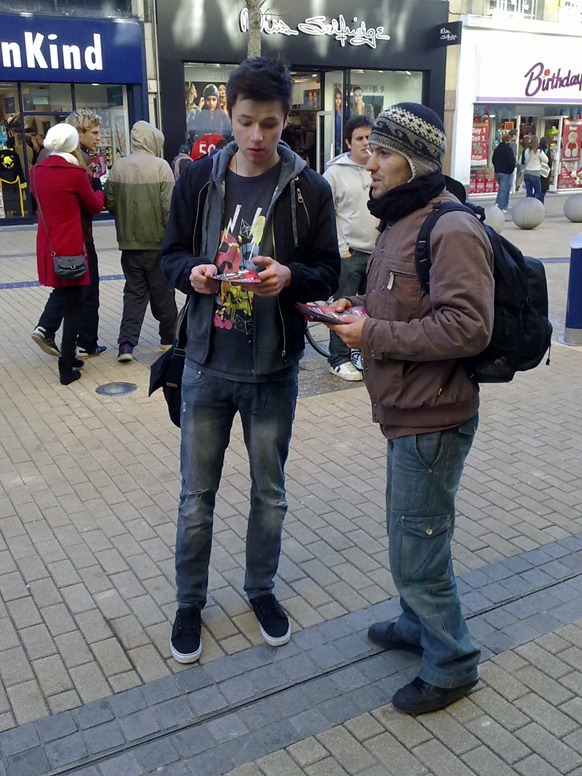 Act Now campaigner talking to the public.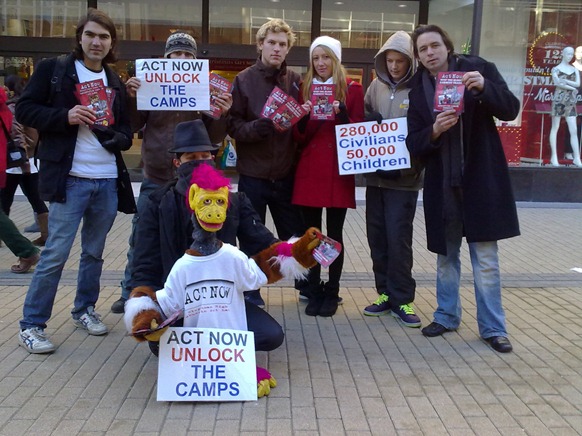 Tim Martin (Director Act Now) and Bristol campaigners.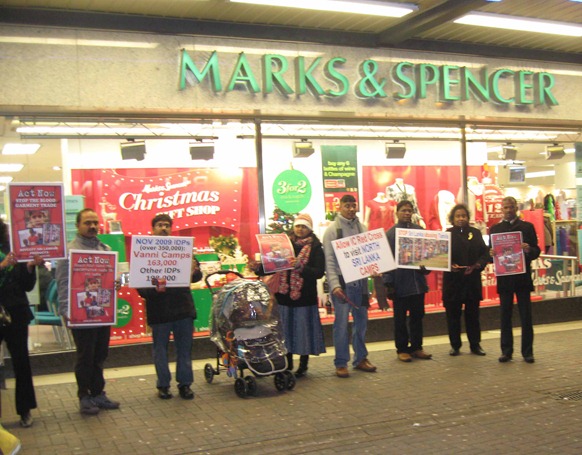 Act Now Campaigners London Graham Williamson (Director Act Now) and a London (Havering) councillor Michael Burton.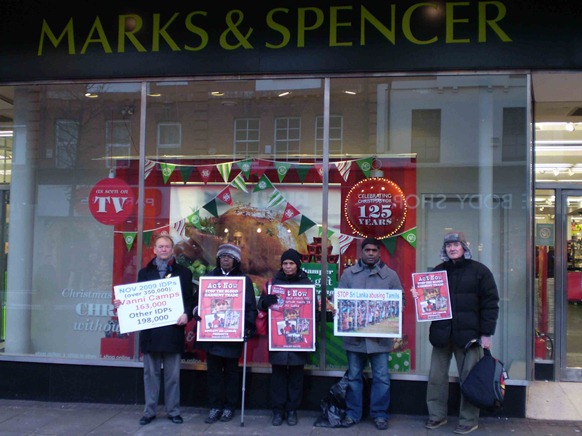 Act Now Campaigners London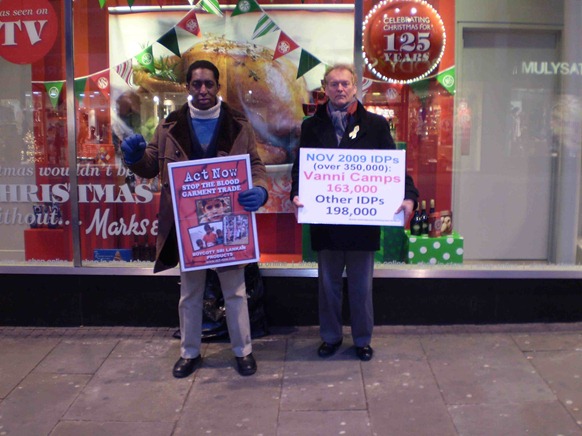 Graham Williamson (Director Act Now) and a London (Havering) councillor M.Burton.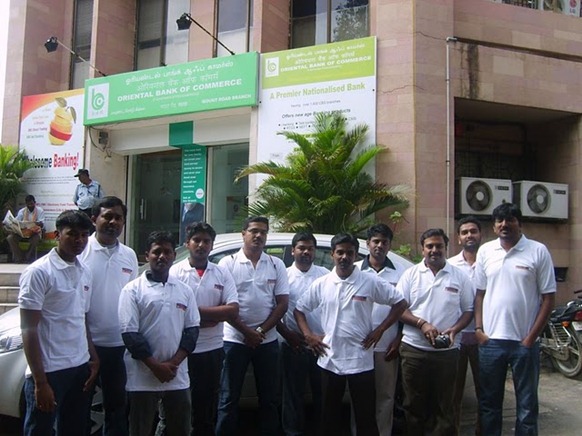 India Campaigners – Chennai.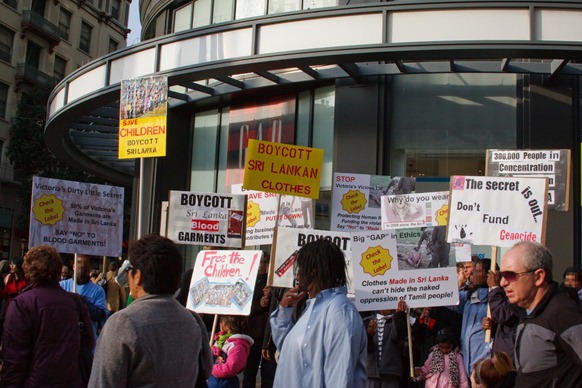 America – San Francisco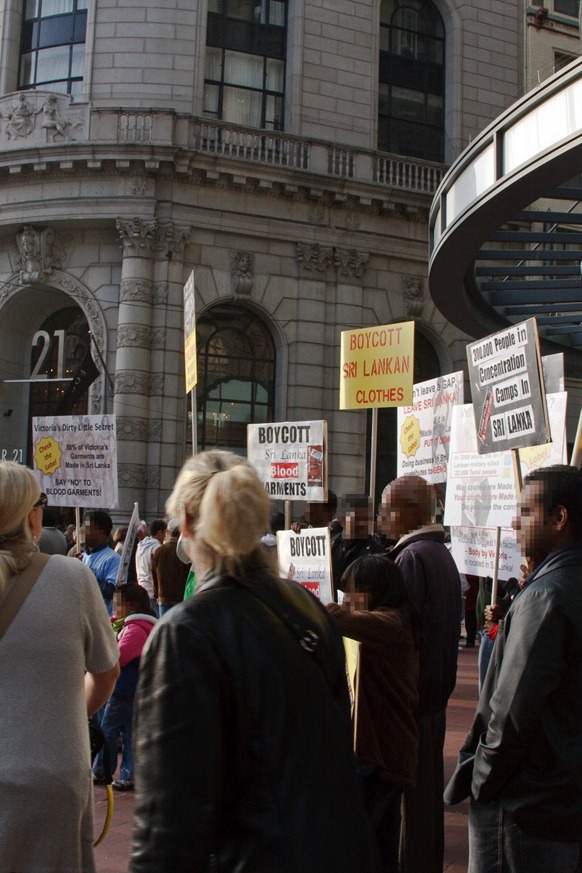 America – San Francisco
For further information, please contact:
Tim Martin, Director, Act Now
Tel: +44(0)7817 504 227
Email: [email protected]
Site: www.act-now.info
Graham Williamson, Director, Act Now
Tel: +44(0)7970 455 445
Email: [email protected]
Site: www.act-now.info
(For updates you can share with your friends, follow TNN on Facebook and Twitter )