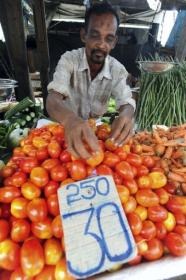 Sri Lanka's new government is set to unveil its first budget on Tuesday that will seek to rein in the island's large deficit while maintaining defence spending, a legacy of the island's civil war.
Junior finance minister Sarath Amunugama is due to present the tax and spending plans for 2010 following presidential and parliamentary polls earlier this year.
"It will be an investor-friendly budget," Amunugama told reporters on Monday. "It will focus on ways to stimulate economic growth and reduce the budget deficit."
The fiscal deficit was 9.7 percent of gross domestic product in 2009 and the government is targeting a deficit of eight percent this year.
Sri Lanka is under pressure to balance its books from the International Monetary Fund which approved a 2.6-billion-dollar bailout package last July after the end of the island nation's 37-year conflict.
Government forces wiped out the leadership of the Tamil Tiger separatists in May 2009 after a massive offensive that has been dogged ever since by allegations of war crimes.
The IMF said released another tranche of the bailout worth 407.8 million dollars on Monday after receiving assurances on tax reforms and spending cuts.
The government is expected to maintain defence spending in 2010 at about 200 billion rupees (1.8 billion dollars), about the same level as 2008 when fighting with the Tamil Tiger rebels was at a peak.
President Mahinda Rajapakse and his party were resoundingly re-elected earlier this year largely due to their success at ending the civil war and their perceived competence at fostering economic development.
(For updates you can share with your friends, follow TNN on Facebook and Twitter )