After the success of the anti-GSP+campaign, to persuade the European Union (EU) to withdraw their generous tax concession to Sri Lanka (worth over £150 million), European importers are reconsidering their relationship with Sri Lanka.
The loss of the tax concession will add around 6% to the previously protected products making many of them more expensive than similar competitive items from countries such as Bangladesh. This is the reason why NEXT are considering pulling out of Sri Lanka (due to the loss of the GSP+).
Whilst the economic picture is changing and moving against Sri Lanka human rights campaigners Act Now is appealing to UK businesses to take an ethical stand against trading with brutal regimes such as Sri Lanka. Such campaigns are also going international with similar groups throughout the world beginning to organise their own boycott campaigns against local stores doing business with Sri Lanka.
There are of course Global companies such as GAP who have stores located throughout the world. This particular company likes to promote itself as an 'ethical' company although it only concerns itself with conditions within its' or its' 'partners' factories rather than outside their gates.
As it is a global company it makes sense to target it internationally, hence the 31st of July has been designated as a Global Day of Action against GAP's involvement in Sri Lanka. The day of action is being organised by Act Now and the US and Canadian Boycott Sri Lanka teams. The Global coalition is calling upon other countries to take part and encouraging other groups to contact them for details, because only through uniting and bringing down the economy will we stand a chance of bringing change. Only when the clothes factories and tourism industries have collapsed will a new government rise promising economic stability and peace, only then will the Tamil people be given a fair deal.  
A Director of Act Now Tim Martin said "It is time for companies trading with Sri Lanka to take note of the EU's withdrawal of the GSP+tax concession. Not only will it make those goods more expensive but it stains them with a mark of shame for the concession was withdrawn because of Sri Lanka's failure to adhere to human rights norms. It is time for these companies to have a re-think and cut their ties with the Island until they adhere to these norms"
Act Now have produced a be-spoke anti-GAP leaflet (copy attached) for the UK which will be launched on the Saturday 31st July.
END
21/7/10
Tim Martin, Director, Act Now
Tel: +44(0)7817 504 227
Email: [email protected]
Site: www.act-now.info
Graham Williamson, Director, Act Now
Tel: +44(0)7970 455 445
Email: [email protected]
Site: www.act-now.info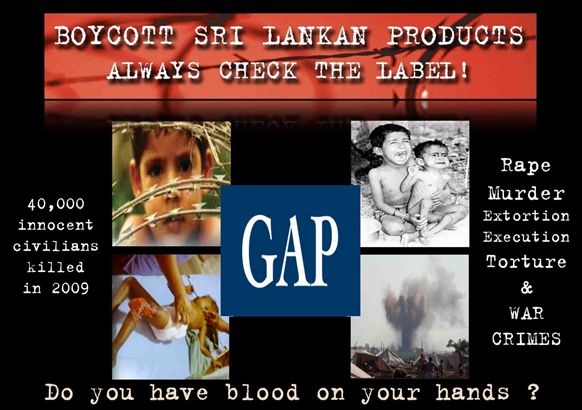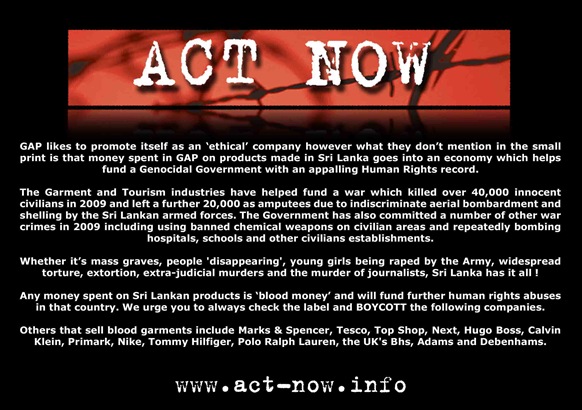 (For updates you can share with your friends, follow TNN on Facebook and Twitter )